Vegan Christmas Fruit Cake Recipe with step by step pictures
For the past couple of years, I have been baking different versions of fruit cake/ plum cake for Christmas.And it happens for bakeathon!
There is already another version of the Christmas Fruit cake made with caramel syrup and apple sauce , A Kerala Christmas  Fruit Cake and even a microwave version of a Rich , Dark Fruit cake.
This year I came upon this vegan version on this site and I bookmarked it then and there. This version uses oil and coconut milk . I must say, the coconut milk added richness to the fruit cake and everyone loved it.
I baked it in a pudding mould that I had got long back . With the amount of stuffs I buy as props / utensils/ bakeware, I hardly remember where I put them.
When I was cleaning the store room, this one popped up and I was glad to find something that I haven't used so far!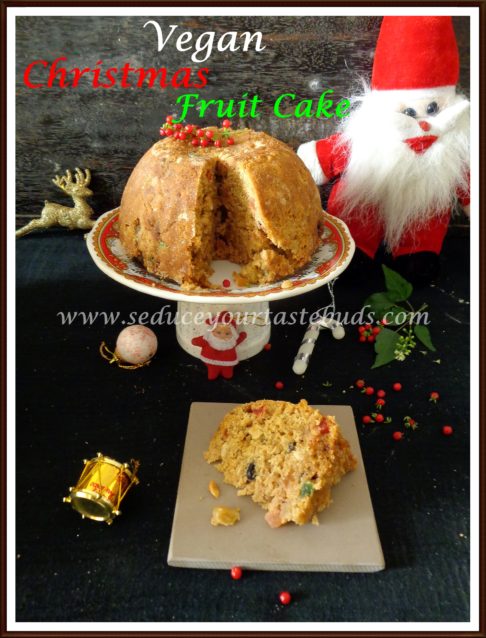 I used:
Mixed dried fruits and nuts- 1 cup
Orange juice-200ml
Whole wheat flour- 1 1/4 cups
All purpose flour – 1/2 cup
Flax seed meal – 2 tablespoons
Baking powder- 2 teaspoons
Unrefined cane sugar – 3/4 cup
Cinnamon powder- 1/8 teaspoon [ I added less as I am not a fan of cinnamon. Adjust to suit your taste]
Ginger powder- 1/2 teaspoon
Salt- 1/4 teaspoon
Coconut milk-1/2 cup
Oil-1/2 cup
Vinegar -1 teaspoon
Step by step method to prepare  Vegan Christmas Fruit Cake Recipe
Mix together orange juice and the mixed dried fruits and nuts. Soak them for at least 2-3 hours. I left this mixture in the fridge for 3 days.

Take both the flours, flax meal, spice powders, salt, baking powder,cane sugar in a bowl and whisk well.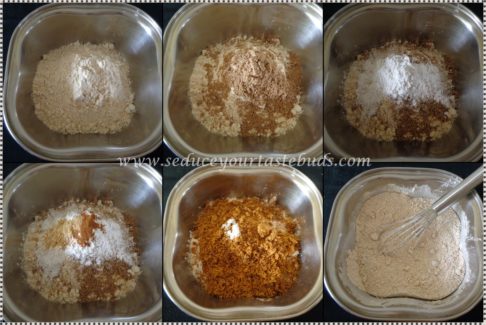 In another bowl, take the coconut milk, oil,vinegar, dried fruit and nut mixture along with the orange juice and mix gently.Add this mixture to the dry ingredients mixture.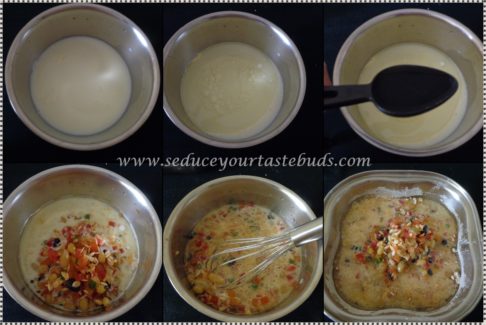 Combine gently. Add more coconut milk or water if it is too thick. But take care not to make it watery.
Transfer the batter into a greased and dusted tin and bake in a pre heated oven at 180 degrees for 30 minutes and at 160 degrees for another 15-20 minutes/ till a skewer inserted into the center of the cake comes out clean.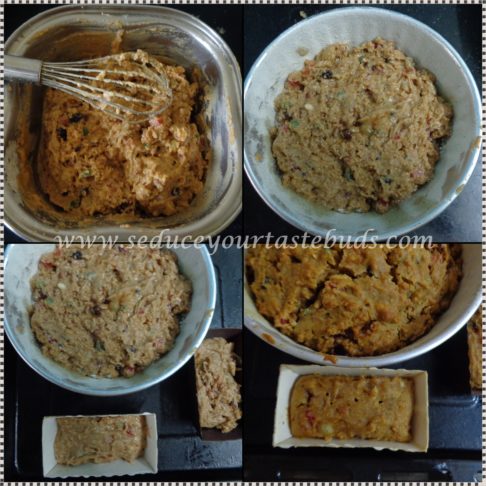 Let the cake cool and then gently demould it and cut only after it cool down completely.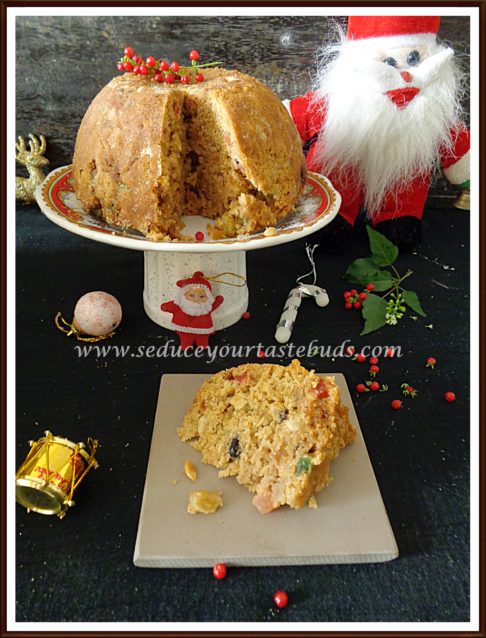 Note:
I used a mixture of tutti frutti, dried cranberries, raisins, dried black currants, melon seeds, cashews.
Depending on the fruits you use and the amount of time the fruits are soaked, you may / may not have any orange juice remaining.
You can use demerara / light brown sugar instead of cane sugar.
2 tablespoons of dark molasses can be added to this recipe along with the oil and coconut milk.
The oven timing may vary.Keep an eye out after reducing the temperature.
Do not try to demould the cake as soon it comes out of the oven. Let it cool in the pan itself.
Cut it only after the cake if fully cooled down.
Tastes best the next day.
This is part of the Bake-a-thon 2017 
Loading InLinkz ...