Quick / Innovative Kids Breakfast – Event Round up
Last month I hosted Srivalli's kids delight event with the theme – Quick / innovative kids breakfast recipes.
I know how daunting a task it is for a mother to prepare a quick and nourishing breakfast before the kid is off to school. Most of the times it becomes very hurried for the mother and the kid to serve /have a proper breakfast.
That's when I wanted to this theme so that we have a compilation of dishes that will come in handy for every one.
Here are 20 breakfast dishes that are kids approved and also very quick and easy for us to prepare.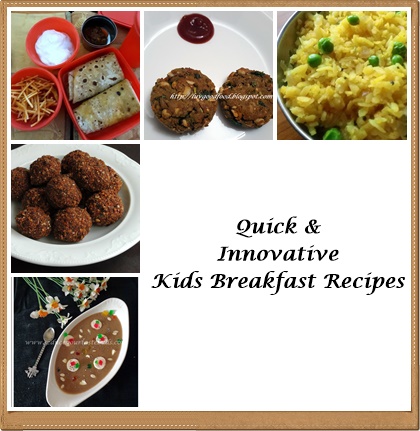 Jayashree has sent in  these crispy Poha cutlets made in an air fryer , Whipped Cream Cheese Spread – that can be made ahead and is surely a life saver in busy weekdays and a bowl of colorful  Vegetable semiya Upma.

Priya Suresh has sent in a whole bunch of choices!! We have a mixed vegetable Pongal – definitely a comfort meal, Savory Cheese Vegetable Bread pudding  that is loaded with goodness and also gives a second lease of life to that stale bread in the bread box, Chocolate honey museli bars – a quick on the go deliciousness, the addictive Brown bread Nutella french toast rolls ,fluffy Maple Chia seeds whole wheat pancakes  and chocolately toasted Museli .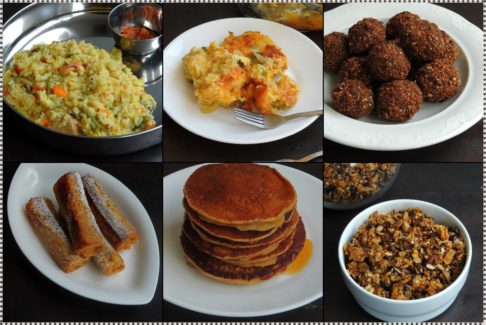 Srivalli has an awesome treat for kids – A south African street food that can be made in a jiffy Quick Microwave Bunny Chow , a tasty Corn,capsicum paneer quesadilla ,aromatic and delicious Aloo stuffed ajwain paratha ,a quick and sinful MW double chocolate mug cake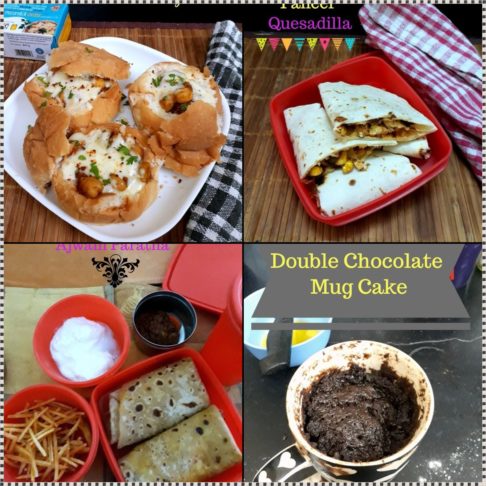 Archana has sent in this classic ,quick , fuss free and nutritious bowl of Kande Pohe.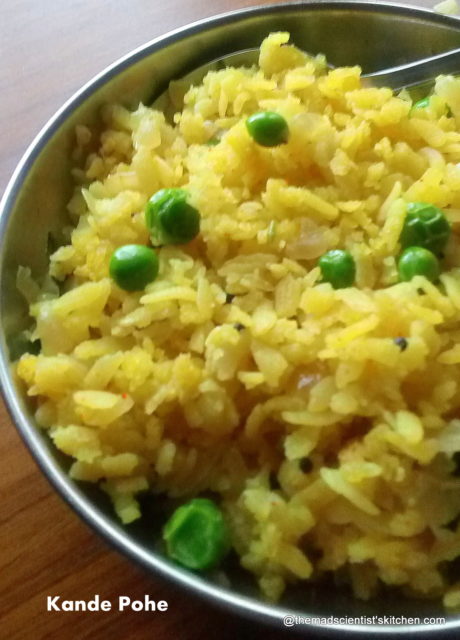 And from my kitchen we have – the eternally favorite – PB & J sandwich, Multigrain porridge bowl,Toast with flavored milk, Apple peanutbutter open sandwich, Breakfast mini bundts and Mini Ghee dosa