It has been a while since I read fantasy novels. When I read the blurb , I knew I had to read it!!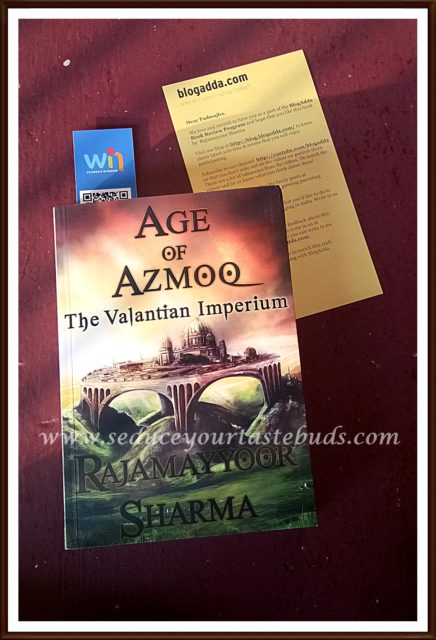 At a glance:
Title – Age of Azmoq – The Valantian Imperium
Author – Rajamayyoor Sharma
Genre- Fantasy
Pages-397
ISBN – 9789352917778
Price – I got a review copy.
Overview of the book
Azmoq is the rarest and most coveted metal on the planet. It's the ultimate source and symbol of real power, and the Valantian Imperium controls it all in Valantia.
Or so they thought…
For the first time in generations, the Valantian Imperium, masters of the Valantian continent have glimpsed the first tremors of fear. There are rumors abound. Rumors of legends. Legends of both ancient Azmoqian weapons and men of godly powers, long thought to be myths.
As these rumors grow, a small group of people, from various walks of life, some commoners, some within the mighty Valantian Imperium itself, by pure coincidence, have set in motion a chain of events. The legends, if true, along with these set of events, might reignite the flames of a revolution. A revolution the Imperium had long suppressed. A revolution that might alter the balance of power in the continent, and eventually the entire world…
Book Review:
The book has a prologue, 7 chapters and 48 sections , Epilogue,Appendix,About the author page.
The story starts with a prologue where two creatures – the demons of the sea and land -hold two sorts of swords and waiting for something that they don't even know!
Then comes our Lil Hero Devrath whose narration takes us through the story. He works as a blacksmith's assistant and and lives in Villasboro, a land that is hidden from the rest of the continent and one that is very self sufficient. The people are always cool and relaxed and there is not much interaction between one another.
Dev is naive and loves to talk and share things with others but his master Forresgrim thinks otherwise. When he is asked to check out a stranger who has been living in their village for the past year , he is excited!
Olmot as he calls the stranger shares quite a bit about the world outside Villasboro and Dev is both thrilled and fascinated to hear his tales.He also sees the other side of his master!
Olmot and a few village securities are killed and grievously injured and that's when Dev decides to avenge their death.
And thus starts the thrill and adventure! I am so tempted to  share the story line but that would a spoiler for sure!
But you can expect a lot of twists and turns, battle scenes, weapons we can only dream of and quite a lot of plots that are surprising ,intriguing, shocking!
My thoughts on the books:
After the first few chapters, I was reminded of the book – Wizards first rule by Terry Goodkind. That was one epic fantasy novel whose characters and story stays with me till now. Somehow I read very few of this genre and that one made quite an impression.
Now when I read Rajamayyoor Sharma's book,this too has joined the list of Fantasy books that I will re read soon.
The other plus is, this is a series and I will surely be reading the next one as well.
OK, now lets start with the pros….
Not many Indian authors have explored the fantasy genre and Kudos to the author for weaving such a beautiful tale.
The story line is very engrossing and is surely a page turner. Though the starting is a bit slow, the pace picks up gradually.
There are maps, sketches, foot notes,appendix that adds to the interest of the reader.
The narration is good,simple and effective
The characters are well developed.
Though imaginary the author brings in front of us all sorts of creatures,sorcery and fantasy that seem so real and he has even explained / justified how they will / will not work!!
The title has an air of mystery around it and the cover is just as intriguing!
The cons would be…
The print size could have been a bit bigger. I could not read for too long. Had to take a few breaks in between.
There are quite a lot of characters and I went back to read how they came into the story line. That cannot be called a con though!
About the author
Rajamayyoor Sharma is the author of the Age of Azmoq series. While he wrote short stories (primarily for his own pleasure) during his college days, he never thought he would write a book until this story had taken root in his mind. He had the idea for the series for years, but never found the time to pen it down. He finally decided to take some time off in 2017 and write the first book of the series: The Valantian Imperium.
During the day, he is a management consultant. He has a degree in engineering from BITS Pilani and an MBA from IIM Bangalore in India. He currently lives in Bangalore with his wife, son and parents. He loves to spend his spare time reading anything with a story, watching movies with his wife and playing with his son.
Get in touch with the author – Author's Website , Twitter , Goodreads
Final Verdict:
If you are into Fantasy , this one is surely a great read.Pick it up without a second thought.Even if you are not into this genre, do give this a shot. I am sure it will not disappoint you!
This review is a part of the biggest Book Review Program for Indian Bloggers. Participate now to get free books!
Check out the other books that I have reviewed so far .Click the link – Book Reviews .