Regular followers of the blog will know my love for dholkas! I had to make one with millets! My first choice was to make it with Ragi flour. Then the red jowar that I had got sat on the kitchen counter begging to be used!
I had some jowar flour that I used to prepare the Jowar Ladoo so used that to make this dhokla.
Since I was not sure how it would taste, I did not click step by step pictures.I was actually surprised to see how good it tasted! It was more filling than the regular dhokla. In fact, I actually skipped dinner after having this as a tea time snack!
It was liked by all and I want to make this again for them and also click proper pictures for this post.
Here are some other Dhokla recipes that I have tried in the past…

Here is how to prepare Jowar Dhokla Recipe
I used:
Jowar flour-1 cup
Besan-1/2 cup
Curd / yogurt- 1 cup
Green chili paste- 1 teaspoon
Salt to taste
Eno fruit salt- 1 teaspoon / 1 sachet
For seasoning:
Oil-2 teaspoons
Mustard seeds-1 teaspoon
Sesame seeds-2 teaspoons
Cumin seeds-1/2 teaspoon
Grease a square tin / plate and keep aside
Heat water in a steamer / cooker.
In a bowl take the jowar flour,besan, green chili paste, salt and mix well.
Add yogurts and whisk so that there are no lumps. Add water if the mixture is too thick.
Add Eno and pour a teaspoon of water over it.. It will bubble up. Mix gently.
Immediately pour into a greased plate / tray and tap gently.
Place the tray inside the steamer and steam cook for 20-25 minutes or till a skewer inserted int he center comes out clean. If cooking inside a pressure cooker, do not use the nozzle stopper or weight.
Remove the plate / tray from the steamer and let it cool for 5 minutes.
Meanwhile,heat oil and add mustard, sesame seeds and cumin seeds.Once the seasoning splutters, pour over the dhoklas.
Spread gently and remove the squares from the tray / plate
Serve garnished with coriander leaves.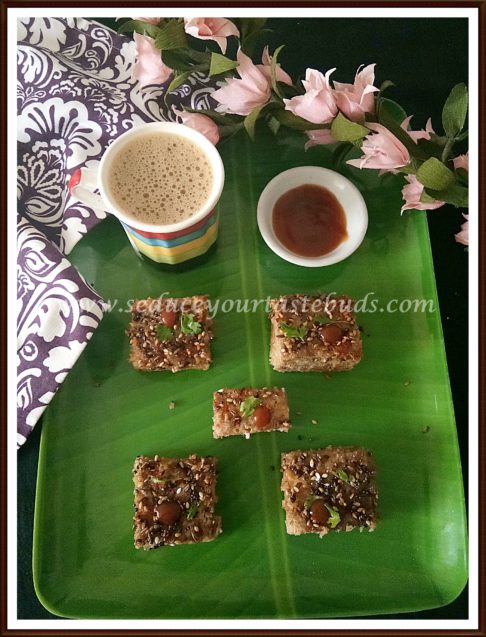 Note:
I used red jowar hence the dark colored dhoklas. You can use the regular jowar as well.
Grated coconut can be used as a garnish.
I used both black and white sesame seeds. You can use both or any one of these.
Day 22


Check out the Blogging Marathon page for the other Blogging Marathoners doing BM# 87

Loading InLinkz ...
——————-*****—————————–