I prepared this Millet Rava Kesari Recipe in memory of my grand father who passed away a few months back. Today would have been his 96th birthday. He was born on Chitra Pournami day and that makes his birthday special and unforgettable too!
Regular readers of my blog may know that the Chaitra maasa panaka poojay thali was inspired from his practice.He used to follow that puja and I came to know about it through mom.I had called him up and he was surprised that I was asking all about it all of a sudden. When I told him I wanted to write on it for the blog, he became enthusiastic. He gave me the full procedure for that post and he was so impressed to see that I was preserving the custom!
He was a pillar of support and we used to go to him for all sorts of advise and clarifications and also call him up when we have something nice to share. The kids used to call him up every week and update him on the progress of their school work / extra curricular activities.
We miss him so much now and the little one still keeps telling me we have to go to our native to visit great grandpa!!
My grandfather was an excellent cook and during festivals and family functions, he took charge of the sweets preparation while my grandmother, mom and aunt looked after the preparation of the other dishes.
I will have to say everyone on mom's side of the family have a great taste in food and I must applaud their cooking skills as well. Be it my mom and aunt or my uncles, they really do cook so well!!
Grandpa's signature dishes are ghee laden wheat halwa which he used to prepare from the 'milk' extracted from soaking and grinding whole wheat,a very tedious ansd time consuming process , melt in the mouth kind of mysore pak and kesari.
He would do all the pre-prep and the full preparation all by himself and he wouldn't let anyone come to see what is going on!
I always feel the  regular / day to day dishes tastes best when grandma prepares it and the sweets are the most delicious when grandpa prepares it.
Though he is not around anymore, to honor his thought I wanted to post this kesari recipe that I prepared for this marathon with the theme – Millets.
My initial stint with kesari was a disaster! This was the first dessert that I made on my own when I was school going kid!I forbid mom to help me saying that I knew how to make it.
Something went wrong and I was left alone with a crumbly textured kesari and a teary eyed self!
Not to be defeated by  a simple dish, I went on to learn it correctly from mom and now this is one of my favorite.
So combining grandpa's birthday , his culinary skills and my favorite dessert, I made this varagu / millet kesari.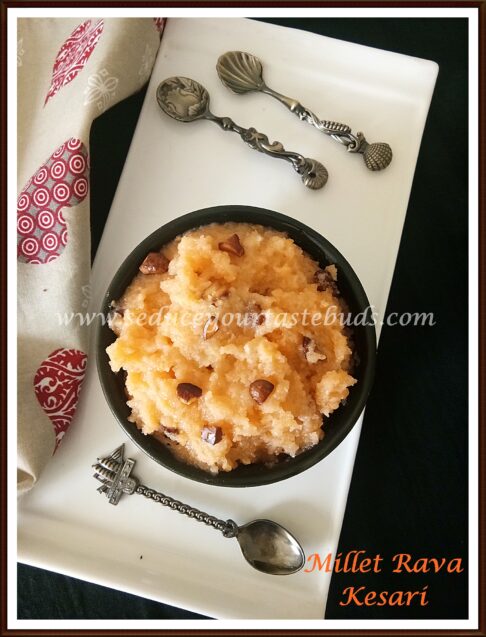 I used:
Kodo millet / varagu -1/2 cup
White rava – 1/2 cup
Sugar- 1 cup / adjust to taste
Water- 3 cups / as needed
A drop of orange food color
Ghee – 1/4 cup
Cashews- 10, broken
Raisins -10 numbers
Ghee to fry the nuts and raisins
Heat a small pan with ghee and oast the cashew till they turn brown.Drain and keep aside. In the same pan , roast raisins till they puff up.Drain and keep aside. If there is ghee remaining in the pan,use it up in this dish.

In a larger pan, roast the millet for a couple of minutes.When it is cool, pulse it a couple of times in a mixie so that it gets the texture of white rava / Suji. Roast the rava too for a couple of minutes an d transfer to a plate.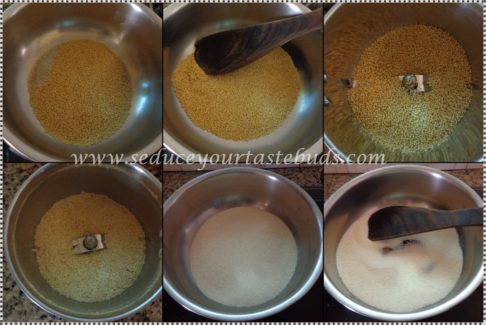 Heat water in a pan.[Side by side heat a cup of water in a small vessel on the other burner so that if needed we will have hot water handy.]. Now when the pan of water comes to a boil, add teh food color and then slowly ass the millet- rava mixture. Keep well so that there are no lumps.I find that a whisk does a rgeat job at this! Keep stirring or whisking till the mixture is cooked and the water has almost been absorbed. If the mixture need to be cooked a little more and it has turned dry, add hot water from the small vessel on the other side.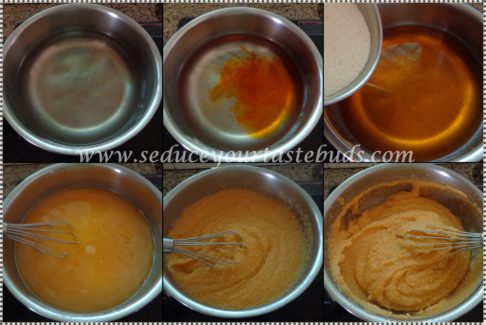 Once the mixture is cooked, add sugar. It will melt and the consistency will change. Keep stirring and when it is almost dry, add ghee and mix well.After the mixture becomes fluffy add the roasted nuts, raisins and remaining ghee if any into the pan and give it a stir.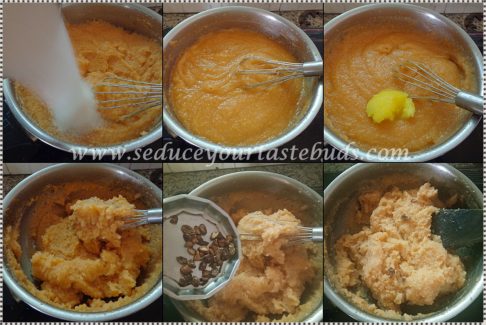 Remove from pan and serve.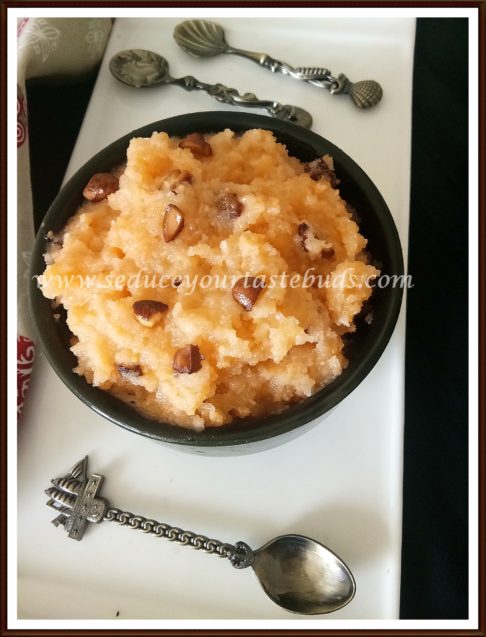 Note:
You can use barnyard millet,porso millet, foxtail millet instead of kodo millet
You can add 1 1/2 cups water and 1 1/2 cups milk to get a creamier version
Adjust sugar to taste.
Day 25


Check out the Blogging Marathon page for the other Blogging Marathoners doing BM# 87

Loading InLinkz ...