When the kidoo hates beets, one of the most effective ways is to incorporate it into a dish that he loves. Thus was born this Mixed Millet Beets Paniyaram Recipe!
My Lil one loves kuzhi paniyaram and I make it quite often during tea time. Taking advantage of his love for the dish,I added beets puree to the batter and made these gorgeous looking paniyarams.
He was skeptical to try them out but with a little coaxing from his sister, he tried a bite and then happily announced that he liked the pink paniyarams too!! Yay !!
I made this using mixed millet dosa batter so as to stick to my theme for the month. You can also try this with the regular batter.
I keep a batch of frozen beets puree handy to make dishes like these and the Beets Sambaram I posted a while back. I also add the puree to while kneading the dough for poori and chapathi. In these ways I am trying my bit to get my kiddo eat vegetables!
I read that to get the natural beet color in the cakes, the beets have to be cooked with the skin on.So ,no matter which recipe I cook with beets puree,I follow the same method.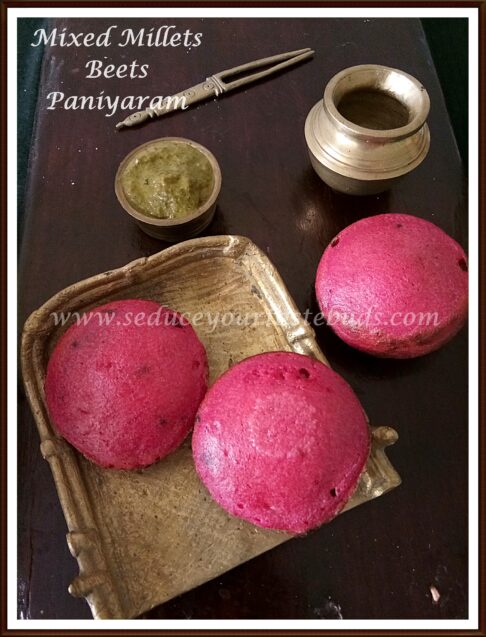 Similar recipes:
I used the same method to prepare the batter with which I made the mixed millet Idli and Mysore masal dosa recipe. You can use Kodo millet, Barnyard millet or fox tail millet
How to prepare Mixed Millets Beets Paniyaram:
Mixed millet idli / dosa batter – 2 cups
Beets Puree – 1/4 cup [ Refer notes below]
For seasoning:
Oil- 1 teaspoon
Mustard-1/2 teaspoon
Cumin seeds- 1/2 teaspoon
Onion-1,small, finely chopped
A few curry leaves, chopped
Mix the batter and beets puree and keep aside
Heat a small pan with oil
Add the mustard and cumin seeds.
When the mustard pops, add onion and curry leaves and saute till the onion is translucent.
Pour this into the batter and mix well.
Heat a paniyaram pan and smear oil in the moulds and drizzle a little oil[optional]and pour the batter into each mould.Cover and cook for a few minutes.
The sides will turn crisp.Gently remove the paniyarams from the moulds and turn them over using a spoon / skewer. Once both sides turn crisp, remove from the pan and repeat for the remaining batter.Serve with a side of your choice.
I served this with mint chutney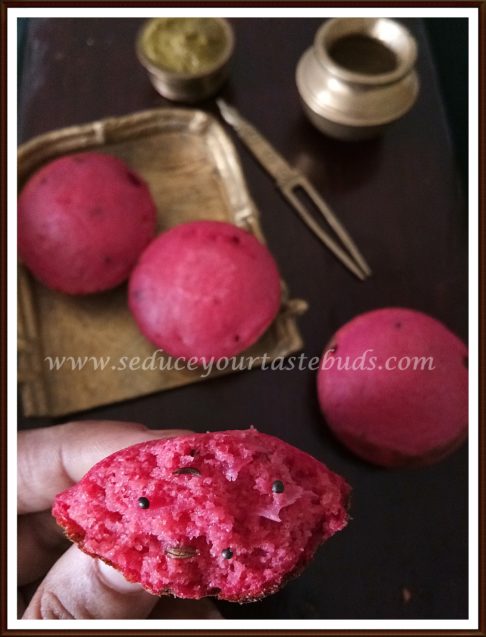 Notes:
Wash ,quarter the beets and pressure cook it with the skin on for 3 whistles/ till cooked.Once the pressure releases, drain the water used to cook the beet ,peel the skin and puree the beet.I did not add water.Use as needed.Freeze the remaining puree.
You can add finely chopped green chilies along with the onion in the seasoning.

Check out the Blogging Marathon page for the other Blogging Marathoners doing BM# 87

Loading InLinkz ...