Varagu Gulkand Payasam | Millet Rose Petal Preserve Kheer Recipe is a delicious alternative to the regular payasam / kheer recipes.
While cooking millets for various recipes in this series, I had around 1/2 cup of cooked kodo millet in the fridge. I was not sure if I can make something with it as I had run out of ideas!
Then I thought a kheer / payasam would be a nice thing to make. I had already prepared this millet moong dal kheer so I wanted this one to have some different flavor.
A further search led me to a half a jar of gulkand / rose petal preserve . Yes, I loved the idea of using gulkand in the kheer and made it immediately! Another half can of condensed milk went into this kheer to give it some creaminess.
On the whole, it was a lip smacking Dish!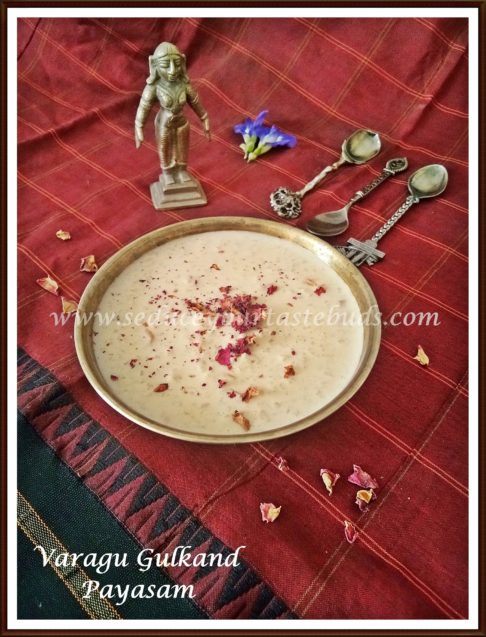 To make this Varagu Gulkand Payasam | Millet Rose Petal Preserve Kheer Recipe I used:
Cooked Kodo millet – 1/2 cup
Milk- 1 1/2 cups
Gulkand / rose petal preserve- 4 teaspoons
Condensed milk – 50ml
Unrefined sugar- 1/8 cup  / adjust to taste [ see note below]
Dried rose petals – to garnish
Heat a pan with milk and bring to boil.Let it simmer for a few minutes.
Add the cooked millet and keep stirring once in a while.
When the kheer thickens a bit, add the gulkand and the condensed milk.Stir well.
Switch off the heat and add the unrefined sugar / jaggery. Stir to dissolve it.
Serve warm / chilled garnished with dried rose petals.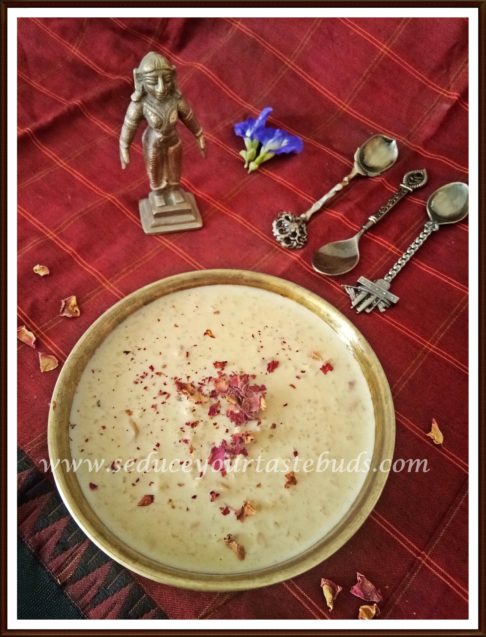 Note:
You can skip the condensed milk .Use more milk and let it thicken before adding the millet
The gulkand,condensed milk  will also be sweet so adjust the quantity of sweetener accordingly.
Be sure to switch off the heat before adding the jaggery / unrefined cane sugar. Else the milk will split
You can also add ghee roasted cashews and raisins as a garnish.
Cooked fox tail millet / little millet can be used instead of Kodo millet.
Tastes best when served chilled
Day 20


Check out the Blogging Marathon page for the other Blogging Marathoners doing BM# 87

Loading InLinkz ...