Here are the recipes that were a part of the event -Explore The Flavors.I had chosen to highlight the Millet based Recipes and here is the Roundup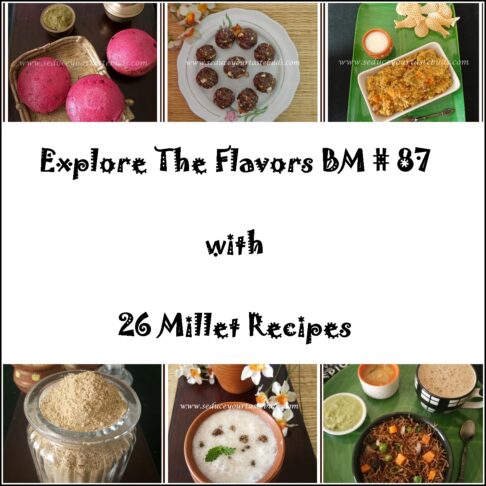 Before I go on to the roundup, let me share with you some of the 'behind the scenes' events.
The themes that were given for this month were all so interesting and you can find the announcement post here .I was wavering from one theme to another for quite some time. I made up my mind finally and decided to go with cooking with Whole grains as the theme.
I did not want to stick to one whole grain and I wanted variety. So I thought I could take up millets and yet prepare dishes with the wide varieties of millets that are available.
The organic shop that I usually shop at had been remodeled and I went around picking as many millets as I could. When I went to pay I casually glanced around the shelves and found a few pics that looked very familiar!
They were ads about the millets and pictures that showed the different varieties. One stood out clearly in my mind and I quickly checked my blog on the mobile and smiled to myself.
The billing clerk did look at me weirdly and then I showed her the pic from my blog where I had written about the millets and their varieties! I went on to tell her that it was the picture from my blog and some others bloggers that I know.
She said she was new and did not know about all this and some ad agency had got the boards done!She was probably scared that I would sue her!
Anyways, I was glad that my pic was worthy to be 'stolen' and printed on a board!!
And when it came to cooking the dishes, I cooked like a marathon! 4-5 dishes a day but clicking part was the tiring one. My mind did not work clearly and as I was racing the sunset most of the times, I did not care much looking for better props or set up!So some pics got a repeat plate / props!
Many of the dishes have repeat requests and my lil one still doesn't know that I served him millets as milkshakes, buttermilk and desserts!
This time, I had all the recipes done and the first two weeks worth of posts scheduled before the start of the event. It made life a lot easier and things were back on track.
I am now looking forward to the next mega marathon and hopefully I will be as prepared as I was this time.
Now here is the roundup of millet based dishes that I posted all through April.
Check out the Blogging Marathon page for the other Blogging Marathoners doing BM# 87
Loading InLinkz ...