The April month's mega marathon has come to an end and this month we start with the regular 3 days/4 weeks blogging.
This week I have chosen Dazzling Dals as the theme and it should feature a dal recipe in gravy style.
When fresh tuar as in season, I made this as a side for chapathi and packed it for the kids lunch box as well.
I have already posted another version of gravy using the same tuar dal whick you can find here. I have added potatoes to that dish along with tuar dal and this version features tuar as the star. .
It is a very creamy side dish without the use of cream / butter!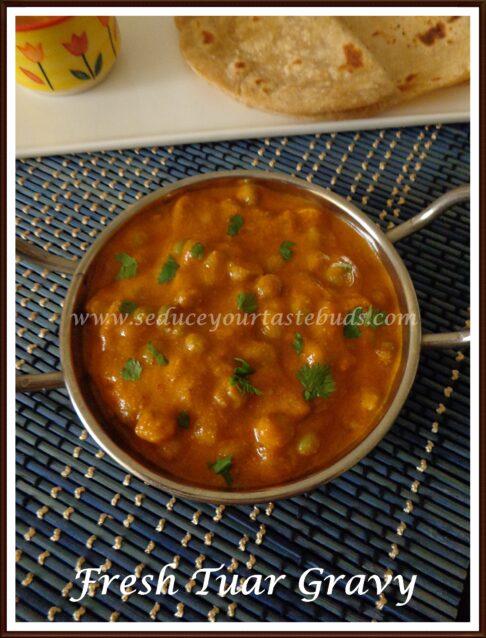 Let's see how we can make this Fresh Toor / Tuar / Pigeon Pea Gravy Recipe
I used:
Fresh tuar Dal-1 cup,shelled
Onion-1,chopped
Toamto-1,chopped
Garlic -4 pearls, chopped
Poppy seeds- 1 teaspoon
Roasted channa dal – 2 teaspoons
Melon seeds- 1 tablespoon
Chili powder- 1 teaspoon
Turmeric powder-a large pinch
Coriander powder- 1 teaspoon
Salt to taste
Oil-2 teaspoons, divided
Cumin seeds- 1 teaspoon
Coriander leaves to garnish
Heat oil in a pan and saute onion and garlic.When onion turns soft, add tomatoes and cook for a couple of minutes till the raw snell gies. Now add melon seeds, poppy seeds,roasted channa dal and cook for a couple of minutes.Let it cool.Transfer this mixture into a mixie jar and grind to a smooth paste,adding water only if needed,.Keep aside.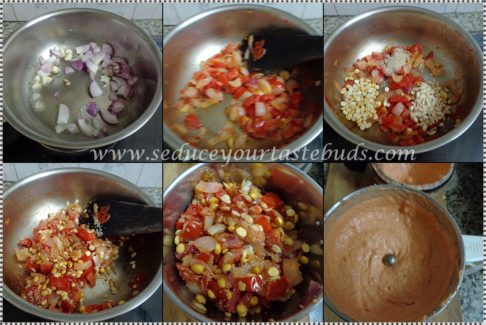 Heat the remaining oil in a pressure cooker and add cumin seeds. When it splutters, add the ground paste and the chili powder, turmeric powder, salt and coriander powder.Mix well. Add a cup and a half of water ,mix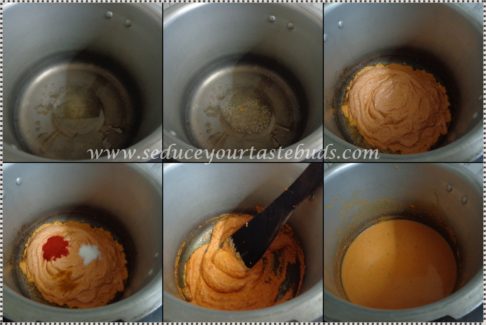 Add the tuar dal and pressure cook for 2-3 whistles / till the dal is cooked. Once the pressure releases, open the pressure cooker, give it a mmix.

Serve garnished with coriander seeds.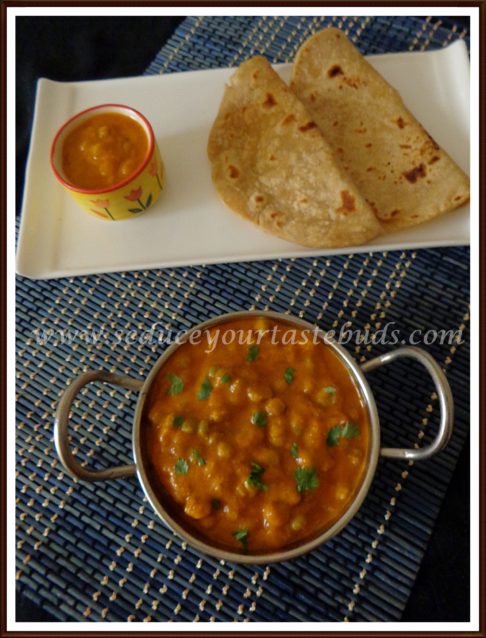 Note:
You can add cinnamon, cloves or any other spices while sauteing onion and garlic mixture.
Adjust the quantity of water to get the desired consistency.
Check out the Blogging Marathon page for the other Blogging Marathoners doing this BM#88