Summer is in its full glory!All we can do is complain about how the heat is progressing each year and prepare something to keep us cool.One of the delicious ways to beat the heat is to prepare something like this Grape Juice Popsicle Recipe.
Even before the summer started I had a list of popsicles to be posted but a little after the holidays started, the kids fell sick with cough/ cold and fever and all the plans went down the drain. I had only prepared a couple of popsicle and still had plenty more to make.
Now with things coming back to normal,I have started making the popsicles from my list. So you can expect some delicious varieties all through this month.
This Grape Juice Popsicle Recipe is so simple. Just prepare the grape juice and pour it into the popsicle mould and freeze. As simple as that!
I am sure you are wondering why I made this into a popsicle when I can just serve it as a fruit or as a fruit juice. My lil one does not like most of the fruits and the only way to make him eat fruits without too much effort is by turning them into a Popsicle.
Whether your kid likes or dislikes fruits, this is a delicious and guilt free treat for summer!!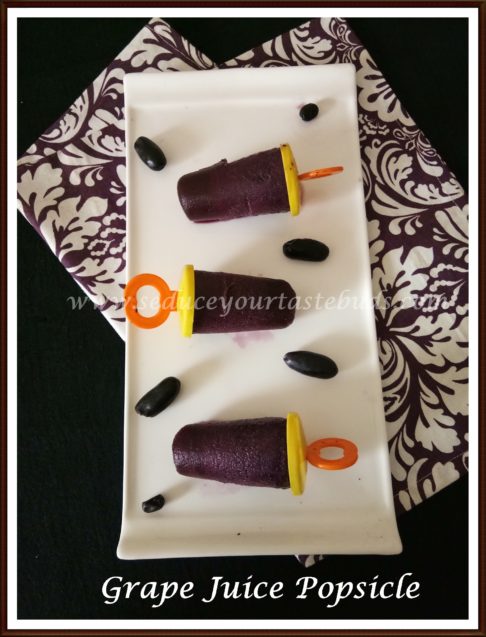 Here is how to prepare Grape Juice Popsicle Recipe
I used:
Seedless black grapes-250 grams
Sugar to taste
Salt-1/4 teaspoon
Wash the  grapes well and remove them from the stalk. Take it in a mixie jar and add sugar and salt.
Blend well. I did not strain the mixture. You can strain it if you don't want a pulpy Popsicle.
Pour into Popsicle mould and freeze till set.
Once set and ready to serve, show the Popsicle mould under tap water and remove the Popsicle gently.
Enjoy!!!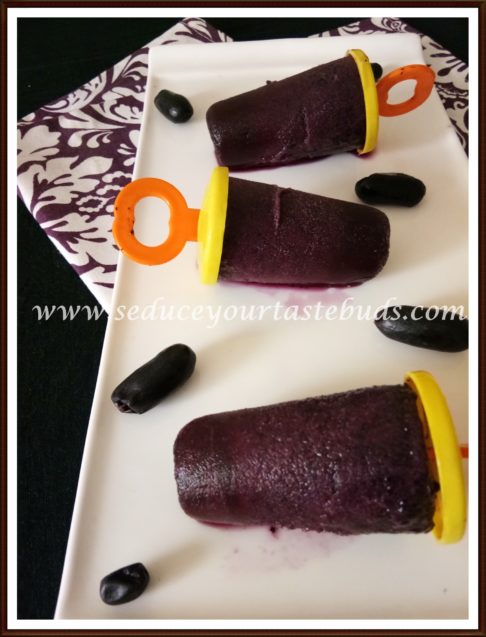 Note:
Do not skip the salt. It add to the flavor of the pops.
Taste the juice before pouring into the mould. It should have a hint of salt.
You can strain or leave it as such before pouring into the popsicle mould.
A little water can be added if the juice is too thick. I did not add.
Check out this link for 15+ Popsicle recipes to beat the heat.