While I was selecting the theme for BM #88, I made sure that I had something ready before the event starts as we would have just finished April's month long marathon.
One of the things that surprised me was that I did not have a decent sambar recipe on the blog!We make this at least 4-5 times a week ,yet it never occurred to me to click and post it here.
Thought there is a quick sambar [pressure cooker method] on the blog the usual way to prepare sambar is not up yet.
There are so many versions of sambar and this is the one that I make. Any vegetable can be used ,here I used drumstick / Murungakkai from our backyard.
This one is a family favorite.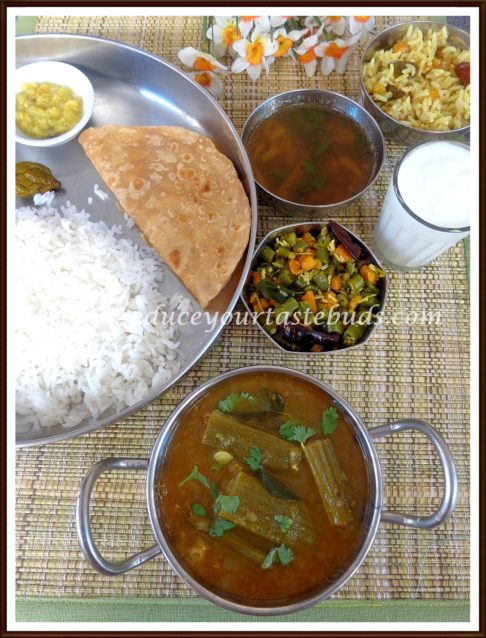 Here is how I prepare Drumstick Sambar Recipe
I used:
Drumsticks- 2, chopped into 1″ pieces
Toor Dal- 1 cup
Tomato-1, cut into two
Turmeric powder- a large pinch
Asafoetida powder-a pinch
Sambar powder- 2-3 teaspoons
Oil-1 tablespoon
Mustard- 1 teaspoon
Fenugreek seeds- 1/4 teaspoon
Channa dal-1 teaspoon
Split urad dal- 1 teaspoon
Curry leaves- a few
Red chili-1, broken
Tamarind extract, thick- 1/8 cup / adjust to taste
Salt to taste
Take the drumstick pieces in a pressure cooker and add 1/4 cup water and pressure cook for 2 whistles. It should not split and turn mushy.

In another vessel, take the toor dal, tomato, turmeric powder and add 2-2 1/2 cups of water. [The quantity of water will vary with the quality of the dal]. Pressure cook for 4-5 whistles / till the dal is well cooked and mushy.Once the pressure releases, remove the vessel from the cooker and mash the dal further along with the tomato. Remove the tomato peel.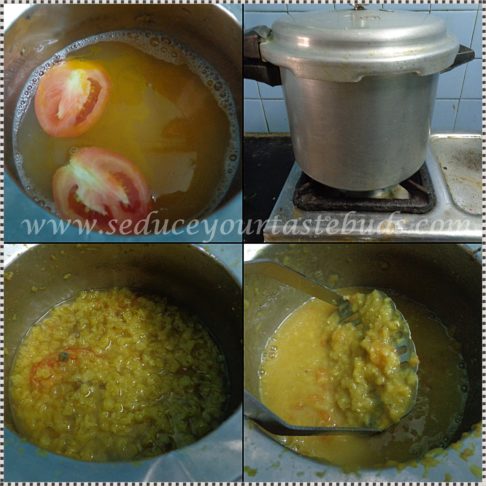 Heat oil in a pan and add mustard seeds, fenugreek seeds, channa dal, urad dal, curry leaves and red chilies. When the mustard pops, add asafoetida and the tamarind extract. Put in sambar powder, salt. Let the mixture simmer and thicken a bit.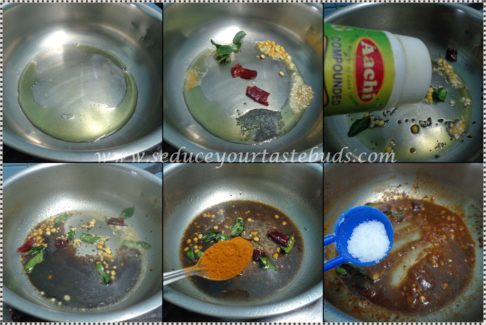 Now add the water used to cook the drumstick and the cooked drumstick, mashed dal and bring to a boil. Simmer for 5 minutes and remove from heat. Transfer to a serving vessel.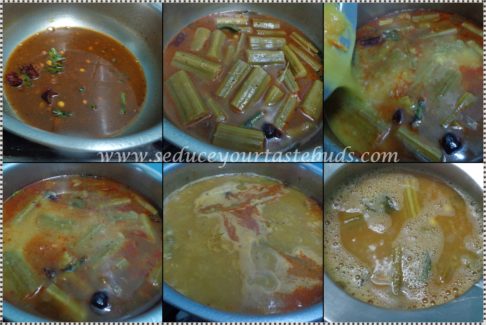 Serve with steamed rice.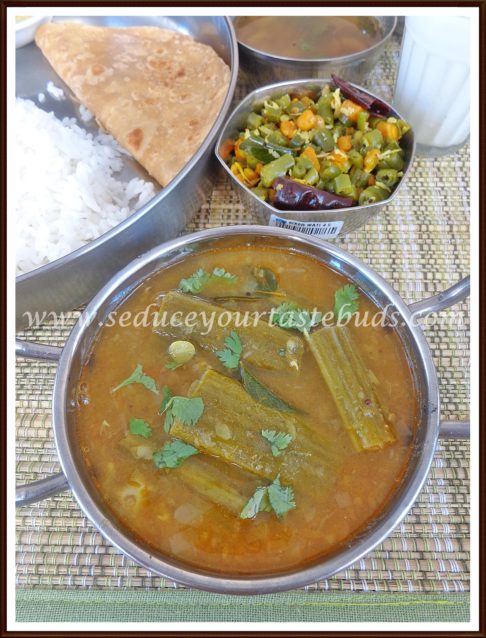 Note:
The quantity of tamarind extract will depend on the tartness of the tamarind. The sambar should have a hint of tartness and should not be overwhelming.Soak the a gooseberry sized ball of tamarind in hot water and extract the pulp.
The quantity of sambar powder depends on your taste preference.I use homemade powder.
This post is for Blogging Marathon #88, Week 1, Day 3, with the theme Dazzling Dals.
Check out the Blogging Marathon page for the other Blogging Marathoners doing this BM#88