It's been a while that I posted something in this Lunch Series.I have some lunch menus in the draft, other posts took priority but now I am back with a simple weekday lunch that I made today.
Usually I make the pre-prep the night before like cutting the vegetables and getting the pulao masala ground. I store these in the fridge and the next day the meal that you see here can be put together in just half an hour!
While the pulao gets done in the pressure cooker, the rasam can be prepared.While waiting for the pressure to release in the pressure cooker,the crisps can be fried.
Instead of grinding the chutney for the raita, I used up the left over coconut chutney that I made as a side for breakfast. One work less plus no need to throw away the couple of spoons of left over chutney!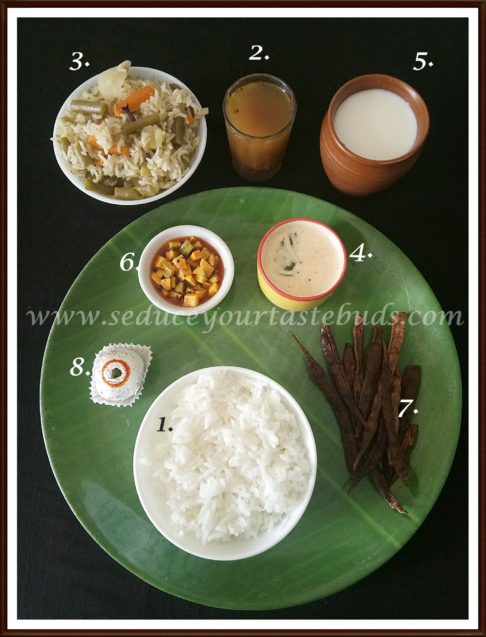 Lunch Series #12 – Simple Weekday Lunch #1
On the menu
1.Steamed Rice
2.Jeeraga Milagu Rasam
3.Vegetable Pulao
4.Chutney Raita
5.Curd / yogurt
6.Instant Mango Pickle
7.Kothavarangai / Fried cluster beans Vathal
8.Sweet / dessert [optional]
All the dishes in this menu get done really fast and is an ideal choice when we need to cook a quick meal.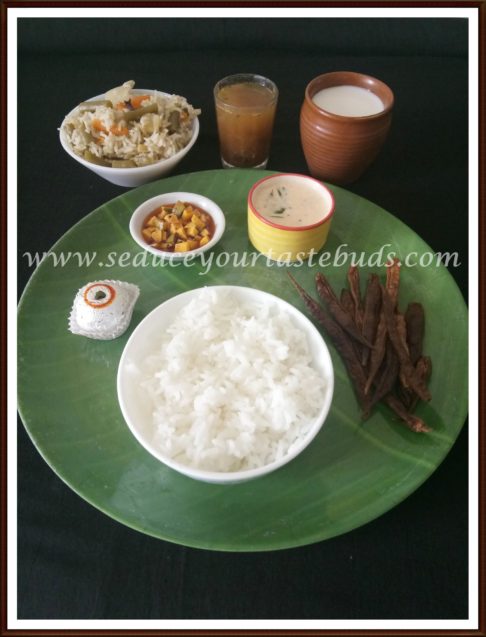 Note
You can skip the pickle and sweet or choose any that you like / prefer
Kothavarangai vathal can be replaced with pappad – fried / microwaved.
Check out the 10+ ideas in the Lunch Series by clicking the link.