Summer is a testing time but in terms of fruits, it is the best one! Mangoes are flooded in the market and the whole place smells so divine!
As much as I love to take in the intoxicating aroma of ripe mangoes, I am a huge fan of the taste! It might come as a surprise to many but those who know me well, are aware of this strange fact!
Anyway, with the mango in season, I took time to make various dishes with it and the family got to enjoy its deliciousness.
I made a smoothie with mango and goji berry for he Kids delight event  and the theme of the month is kids approved Drinks,hosted by Mayuri.
Kiddo is a huge mango fan and loves it to bits! Since I already have so many mango based drinks, I made something different by adding Goji berry to the mix!
I have already written about these Goji berries, but here is a small recap…
These berries are now being called 'Super fruits'.They are known by many other names like Lycium barbarum, gou qi zi, red medlar ,wolfberry,Fructus lycii, Murali (in India), barbary matrimony vine,bocksdorn, Duke of Argyll's tea tree, etc.They are sold as Himalayan / Tibetian Goji berries in the market.
It is said that the Chinese medicine have been using these berries for the past 6000 years!!!
It is said to
• Promote Longevity[Anti-aging]
• Protect liver
• Strengthen the legs
• Boost the immunity
• Better eyesight as they are rich in Carotinoids.
• Improves fertility and have aphrodisiac properties.
• Improves blood circulation
• Recent studies show that it reduces the blood sugar and blood cholesterol levels and prevents the growth of cancer cells.
Check out the other details and other recipes that can be made with Goji Berry.
So here comes a super smoothie made with a super ingredient!!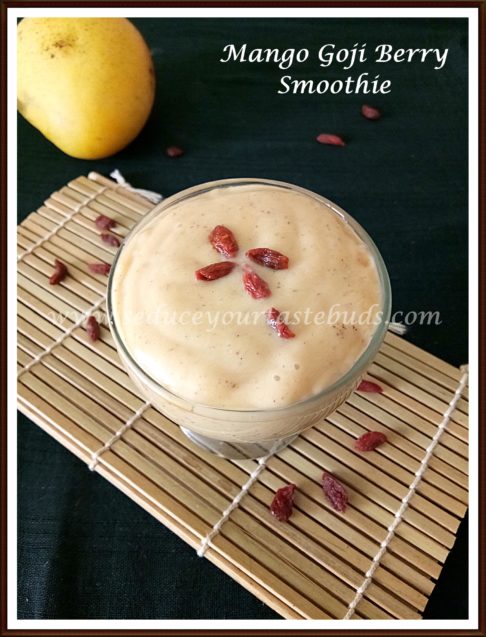 Here is how to prepare Mango Goji Berry Smoothie
I used:
Mango Pulp-1/2 cup
Goji berry-1/8 cup soaked in 1/4 cup water
Banana – small, chopped
Chilled Milk-2 cups
Blend all the ingredients till smooth.
Serve immediately.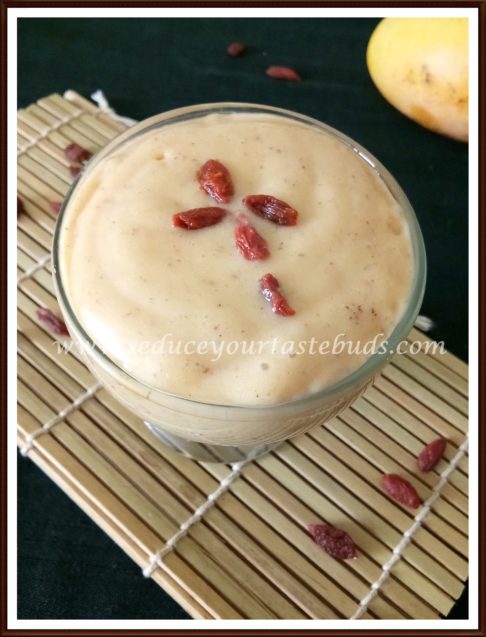 Note:
I did not use any sweetener. You can add any of your choice
The mango was very flavorful .So 1/2 cup of mango plup was sufficient. Adjust to suit your taste
I blended the goji berry along with the water used to soak it.
Tastes best when served chill.
Check out the Blogging Marathon page for the other Blogging Marathoners doing this BM#89