I made some recipes for Mother's day last month. A couple of friends from our Blogging Marathon Group too made some special dishes. Here is the roundup of those dishes that are so full of love and affection.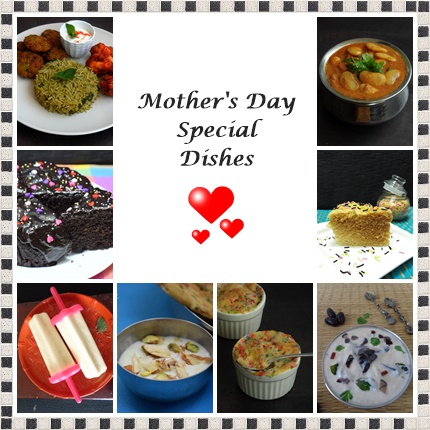 Priya from Cook and Click made these three dishes –
Gluten Feee Mint coconut Pulao – a delicious one pot meal for her mom who specilizes in making one pot dishes!
What is a celebration without a cake, right!So here is her colorful Eggless Confetti Microwave mug cake.
Vegan Butterbeans tomato Kurma which is also her mom's signature dish!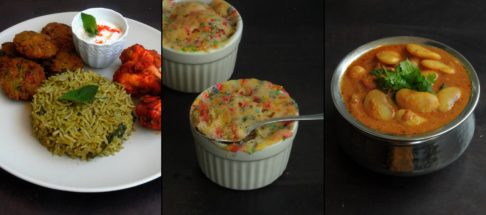 Srivalli from Spice Your Life made these three dishes –
Dry Fruits Shrikhand – A droolworthy dessert made just for her mom!
Basic Moist eggless Chocolate cake that was baked by her daughter! It is indeed special!
The best Eggless Vanilla Recipe – Yet another delicious bake by her daughter and it is absolutely the best!

And here are 3 dishes from my kitchen
Buckwheat flour Dahi Balla– A low calorie ,guilt free snack.Made in an appe pan, this was a snack mom enjoyed a lot!
Buttermilk Popsicle -I turned mom's favorite salted lassi into a Popsicle
Grapes Raita – Yet another mom's favorite!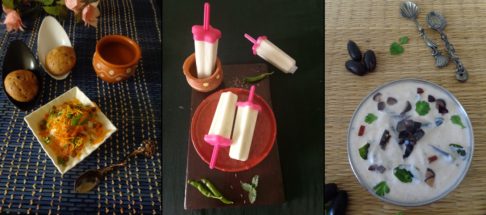 I really enjoyed reading up on these dishes. Hope you will hop over to these posts and check them out too…