When the summer was still pleasant, that is nearly 3 months ago, there was a promotional sale in the mall which gave heavy discounts on summer related stuffs.A portion of the aisle was allocated for juices, squash and Rooh Afza.
I grabbed a bottle of Rooh afza and looked at the expiry date. It was years away so happily placed it in the cart.
We have been chilling with popsicles and cooling beverages all through summer and this drink is one of among the lot.
Rooh Afza is a rose flavored syrup based concentrate that can be used to make milkshakes, popsicles , Falooda ,used as toppings etc. It is a body coolant and has some herbs in it for flavor.
It is a pretty simple recipe yet really very refreshing!! Kids will fall in love with the rose flavor and the basil seeds will look very attractive!
This goes to The Kids delight event  and the theme of the month is kids approved Drinks,hosted by Mayuri.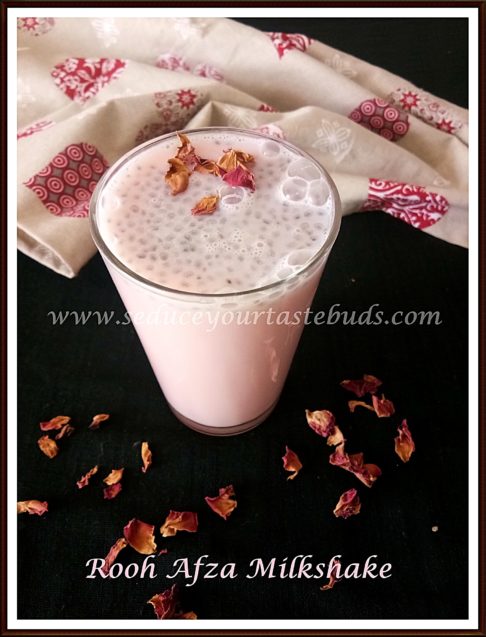 Here is how to prepare Rooh Afza Milkshake Recipe
I used:
Chilled milk-2 cups
Rooh Afza syrup-3-4 Tablespoons
Basil seeds- 1/2 teaspoon
Soak the basil seeds in 1/8 cup of water and let it  'bloom'.
Blend together milk and rooh afza.
Pour into serving glasses and top with a teaspoon of basil seeds.
Enjoy the refreshing milkshake.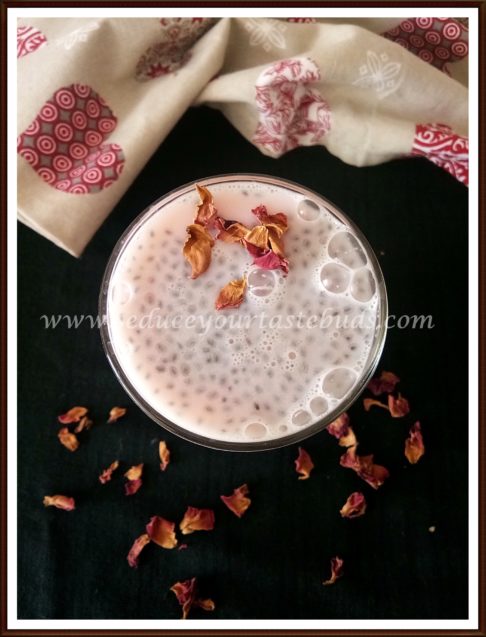 Note:
I did not add sugar as the sweetness was just right. You may add a sweetener of your choice if needed.
Tastes best when served chilled.
This can also be served without basil seeds.
Check out the Blogging Marathon page for the other Blogging Marathoners doing this BM#89