Finally monsoon has set over our place and we are pretty pleased! The summer had really taken its toll and I am sure you would have read how much I was groaning about it! Well,this Vegan Mango Chia Popsicle Recipe was something I made during summer.
Well, though I hate the heat so much, it is the best time to enjoy popsicles, icecreams, juices and milkshakes. So all this sort of works in favor for me.
I made quite a lot of popsicles this summer and I am dying to put them on the blog.
I really loved  this Vegan Mango Chia Popsicle Recipe and me telling this is actually something! I am not a fan of mangoes and I get weird stares from people when I say this. But this Popsicle really hit the spot and I enjoyed it every bit!
So here is the Vegan Mango Chia Popsicle Recipe that will really please your taste buds and have you craving for more.
.Check out this link to make 20 varieties of popsicles. They are all so easy to prepare and I am sure you will love each of of them.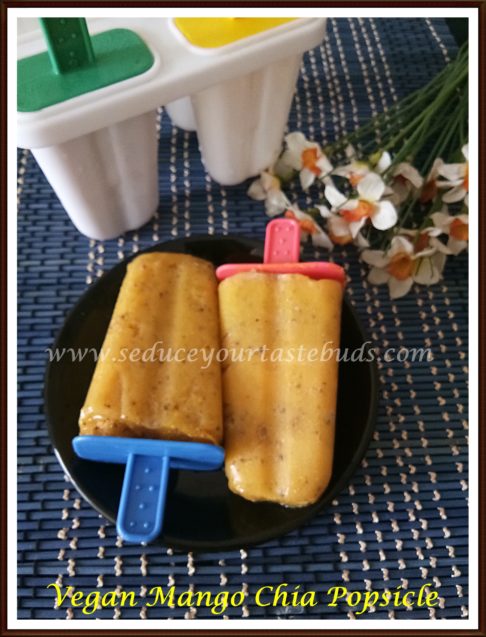 Here is how to make the Vegan Mango Chia Popsicle Recipe
I used:
Mango pulp – 3/4 cup
Palm sugar to taste
Coconut milk, thick-1 1/2 cup
Chia seeds- 1 tablespoon
Blend all the ingredients together..
Pour into a Popsicle mould and freeze overnight / till set
When its time to serve, show under water  and gently pull out the pops.
Enjoy the delicious Popsicle!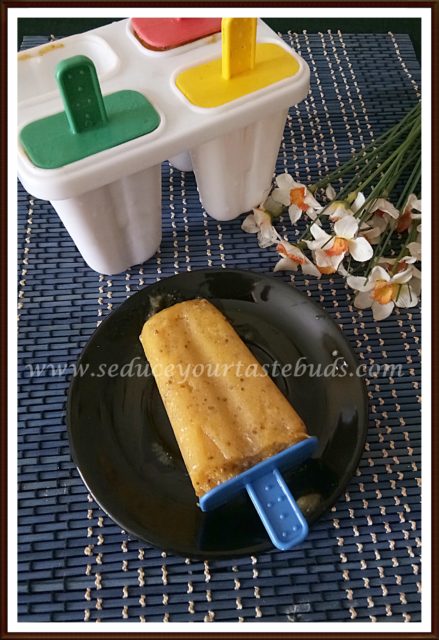 Notes:
Use any sweetener of your choice / leave it out all together if the mango is really sweet.
Replace coconut milk with regular milk or other vegan options.