Sweet Corn Sundal Recipe for Cooking from a Cookbook Challenge.
It is only recently that Lil dude decided to check out vegetables other than potato,cauliflower and peas.And his new found love is sweet corn!!
He loves buttered corn seasoned with salt and pepper. The other interesting fact is that he even wants it for his snack box.
We are cutting down biscuits and similar stuffs.So I am on the lookout for dishes that are healthy and also easy to prepare.
Nowadays it is more of sundal and dry fruits and nuts. But this sweet corn sundal is the one that he wants at least thrice a week! Lil Angel is how ever happy with anything that I pack for her!
So coming back to this corn sundal recipe, it was taken inspired from the book – Bookworms and Jelly Bellies. When I got a copy for review ,I was so surprised to see that almost all the recipes were something that the kids would love to eat and the ingredients were available!
In the book,this sundal comes as Corn sundal with coconut confetti,inspired by the story- Petu Pumpkin-Tiffin Thief written by Arundathi Venkatesh.
I have made some changes to the original version and here is my kids favorite snack box recipe!
This is not only a great dish for the snack box, but also a healthy one to go with the tea time coffee / tea and can also be a part of the lunch menu!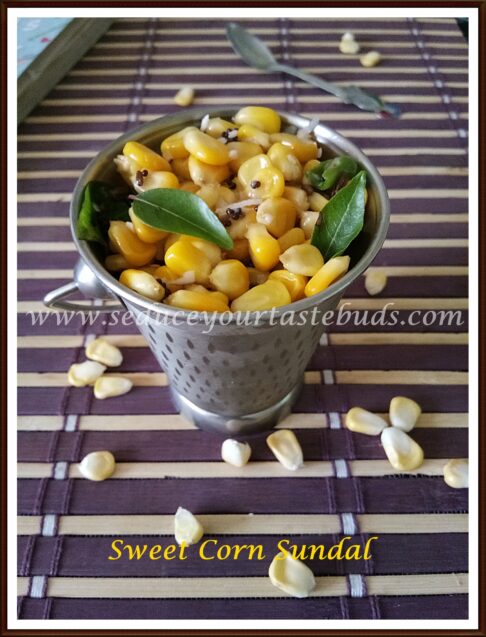 Check out the other Sundal Varieties too. [Click the link]
Here is how to prepare Sweet Corn Sundal Recipe
I used:
Sweet corn,boiled – 1/2 cup
Oil-1 teaspoon
Mustard-1/2 teaspoon
Cumin seeds-1/2 teaspoon
Curry leaves- a few
Asafoetida powder- a small pinch
Lemon juice- to taste
Salt to taste
Grated coconut-2 teaspoons
Heat oil in a pan and add mustard and cumin seeds
Once the mustard pops, add the curry leaves, asafoetida powder and cooked corn,salt.
Give it a mix and switch off the heat.
Add lemon juice and coconut and mix.
Sweet corn sundal is ready to be served / cool completely pack into the snack box.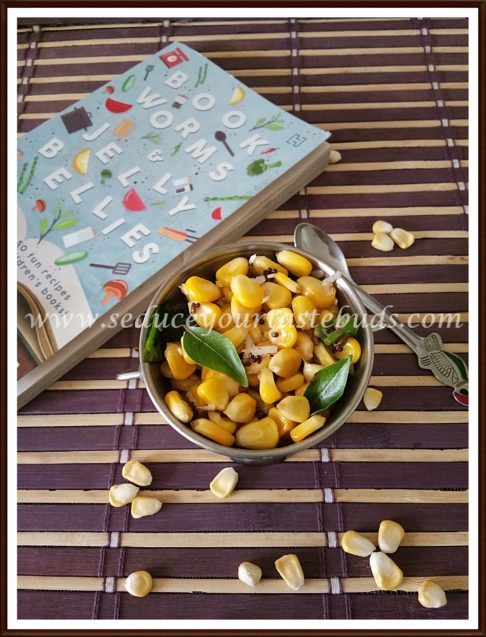 Note:
Sometimes, I skip the lemon juice. It tastes good that way too.
This is part of July Week 2, Cooking from Cookbook Challenge Group.