Here is yet another simple lunch for a weekday. If you love to cook but find it hard to put dishes together check out the other posts in this Lunch Series for ideas.
This meal is a very simple one yet very flavorful, healthy and delicious. This has all of our family favorites and we loved it to bits.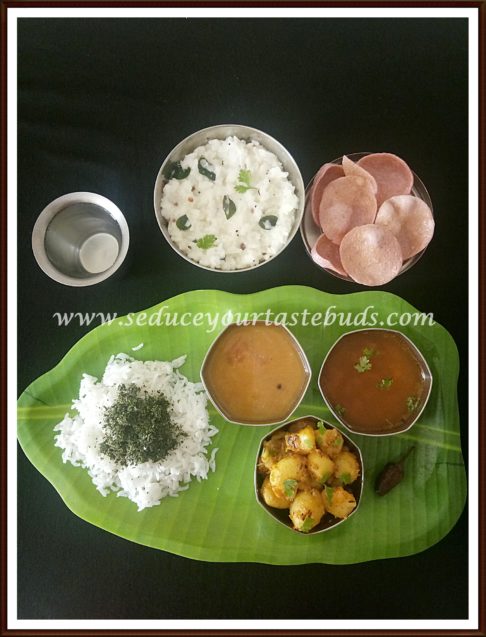 On the platter
Ogarnay huli– Seasoned Dal
Jeerige Meansu Saaru – Cumin-pepper flavored Rasam
Seasoned curd rice
Coconut Curry leaves Chutney Powder
Jeera Aloo – Cumin Flavored Potato Curry
More milagai – Sundried Chilies
Microwaved crisps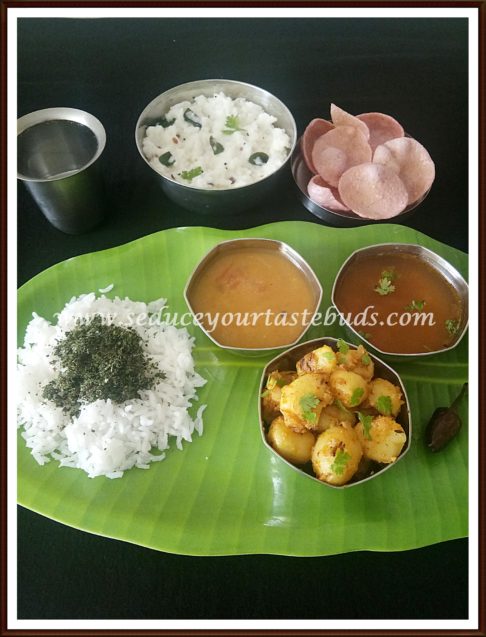 Note:
The curd rice recipe in the link will take you to a recipe that has a lot of add-ons like cucumber, pome etc. For an everyday meal we don't add those. Just season the curd rice with mustard seeds, urad dal, chilies,cumin,curry leaves. Finally a little coriander leaves for garnish.
The chutney powder can be prepared ahead and stored.
Hope you enjoyed this simple meal….