I chanced upon this Tan Ngang Recipe | Manipuri Style Puri Recipe when I was looking up for another fried flat bread and the name sounded very different. I immediately set my mind on this and thought it would be best when served on a Sunday for breakfast.
Then I read that 'tan' is brad and 'ngang'  means red and it is made of APF /Maida and process looked so similar to many of our other fired flatbread like Bhatura ,Luchi etc.
Since puri was served as Tan Ngang Recipe | Manipuri Style Puri Recipe the kids went gaga over it! Talk about the old wine in a new bottle!!
As far as I searched, there are two versions of this dish.One is here and the other here.  I went with the first version and will try the other version sometime later.According to the second site I referred, this bread is made on auspicious occasions / festivals and is usually made a day prior to the occasion. Since the bread sits overnight, the color of the bread changes to red and hence the term 'ngang'.From the second site, I also learnt that it is a sweet bread with cherries and sugar added to the dough.
Now let us go to the savory version of Tan Ngang Recipe | Manipuri Style Puri Recipe
I used:
All purpose Flour / Maida- 1 cup
Thick Yogurt- 2 tablespoons
Salt to taste
Oil to deep fry
Take the Maida and salt in a bowl and mix well
Put in yogurt and add water little by little and knead to a soft non sticky dough
Heat oil in a pan.
Pinch out small balls of the dough and roll out to 3″ circles.
Gently slide into the hot oil.
Press with ladle and slowly the puri will puff up.
Turn it over and cook for a few seconds
Remove from oil and drain on a kitchen towel.
Repeat for the remaining dough.
Serve with a side of your choice.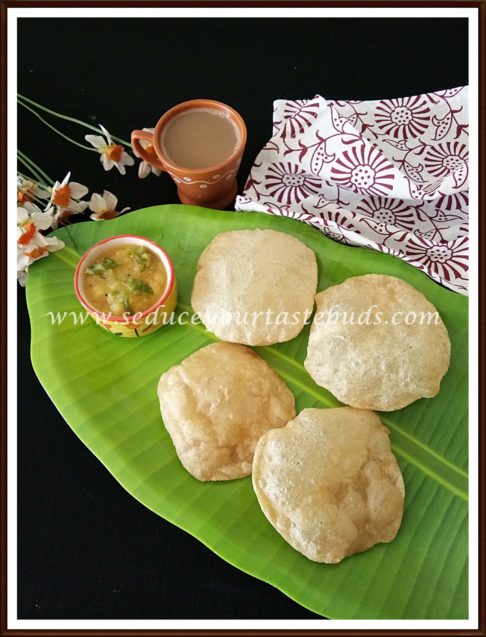 Check out the Blogging Marathon page for the other Blogging Marathoners doing BM# 92
Loading InLinkz ...