Instant Akki Dose | Instant Rice Flour Dosa Recipe is the next dish that I am posting for Blogging Marathon #93, Week 3, Day 2 with the theme Easy Breakfast Dishes.
This instant dish is from the Karnataka cuisine and is a vegan and Gluten free breakfast.
When I made this dose [pronounced Dho-say] I was skeptical about the taste. I used just a cup of rice flour and made dosas for mom and me.Mom liked the taste and texture of this dose and wanted me to make this on a regular basis.Yes, it was really good !
You can make this without onion as well but onions add a nice bite to the dose.It is poured on the tawa similar to rawa dosa and made with a lot of holes!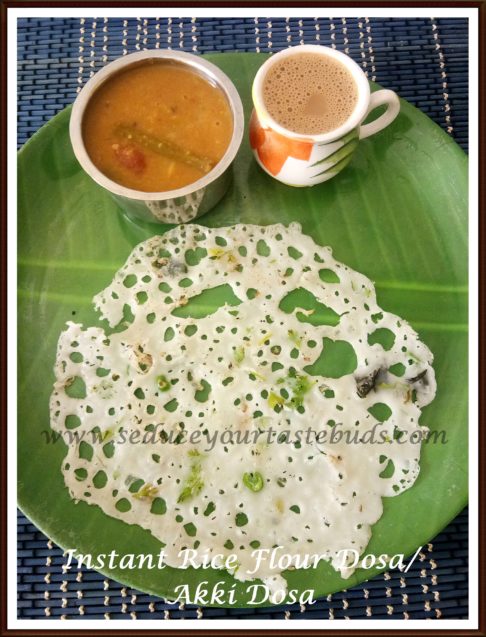 Here is how to make the Instant Akki Dose | Instant Rice Flour Dosa Recipe
I used:
Rice flour -1 cup
Onion-1,small, finely chopped
Green chilies- 1, finely chopped and seeds removed
Curry leaves- a few, chopped
Coriander leaves- a few, chopped
Salt to taste
Oil to grease the tawa
Take all the ingredients [except oil for greasing the tawa] in a bowl and mix well.
Add water and make a lump free batter that is thinner than the regular dosa batter but similar to rava dosa batter.
Heat a tawa and smear oil on it.
Mix the batter well before pouring on the tawa.
Take a small cup of batter and start pouring it from the outer edge and come as a circle to the center.
Cover and cook till the edges come off the tawa.
Gently flip it over and cook for a minute or so.
Serve hot with a side of your choice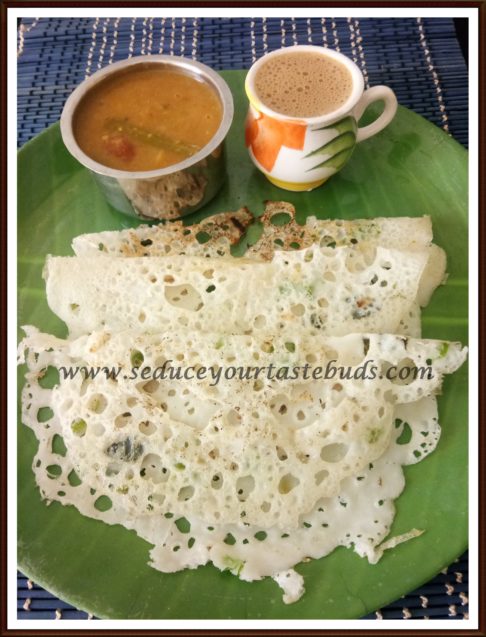 Note:
Lightly grease the tawa after each dose.
Mix the batter before pouring each each dose.
It tastes best when served hot but was not too bad when I ate the cold dose after the photo shoot!
Check out the Blogging Marathon page for the other Blogging Marathoners doing this BM#93
If you like the recipe rate us at the end of the post.Do try out this recipe and share your results in the comments section.
And don't forget to use those share buttons!