We are on day 6 of the bakeathon and today's cake has become a family favorite and it literally got over in minutes. Yes, this Eggless Whole Wheat Tutti Frutti Cake Recipe is something that I am sure to bake again so that we can enjoy the soft and crumbly cake all over again!
This recipe is adapted from here and I wanted to make it as soon as I saw it in one of the FB groups.
There was a time when I searched high and low for tutti frutti / candied papaya and then when I found it I stocked up a lot! The kids used to eat it as a snack too as I did not make use of it so much.
Then this recipe calls for quite a bit of tutti frutti and it gave me a good chance to use up some of the stocked up candied fruit.
Also used in this recipe is suji / Semoline  and that is something new for me. I have used Suji in savory bakes like this Baked upma but not in baked desserts.
I have used Whole wheat and powdered cane sugar/ Karumbu sakkarai in this recipe.So it is a sort of guilt free treat!
The texture was really good and so soft and crumbly. So it is best to wait till it cools completely and then slice it.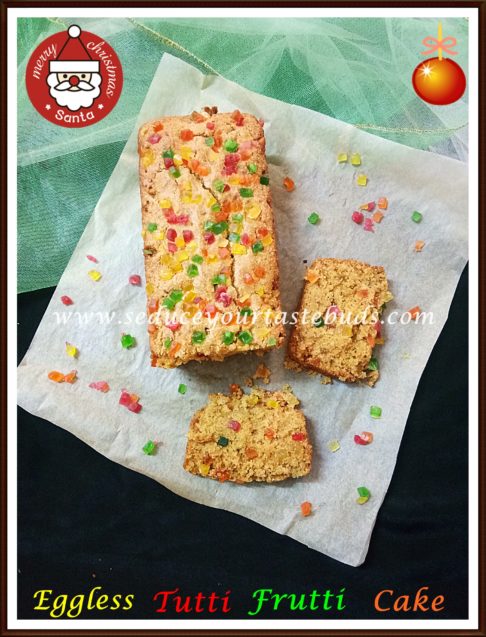 Here is how to make this Eggless Whole Wheat Tutti Frutti Cake Recipe
I used:
Whole wheat flour- 1 cup
Semolina / Suji [fine variety] -1/2 cup
Thick Yogurt-1 cup
Oil-1/2 cup
Powdered cane sugar- 1 cup
Baking soda – 1/4 teaspoon
Baking powder-1 1/2
Salt- a large pinch
Tutti frutti – 1/2 cup + a little extra to sprinkle on top
Take the tutti fruitti in a bowl and add a teaspoon of flour and toss it to coat it completely. Keep aside.
In a bowl, mix whole wheat flour, semolina / suji, baking powder, baking soda and salt.
In another bowl take the cane sugar,yogurt,oil and whisk will the sugar dissolves completely.
To this add the dry ingredients little by little and mix to a lump free batter.
Add the flour coated tutti frutti and combine gently.
Transfer this to a loaf pan and tap on the counter top to remove air bubbles.
Sprinkle the reserved tutti frutti.
Bake in a pre heated oven @ 180 degree C for 45 minutes / till done. A skewer inserted in the center should come out clean.
Remove from oven and after a few minutes transfer onto a cooling rack.
Slice after the cake has cooled down completely.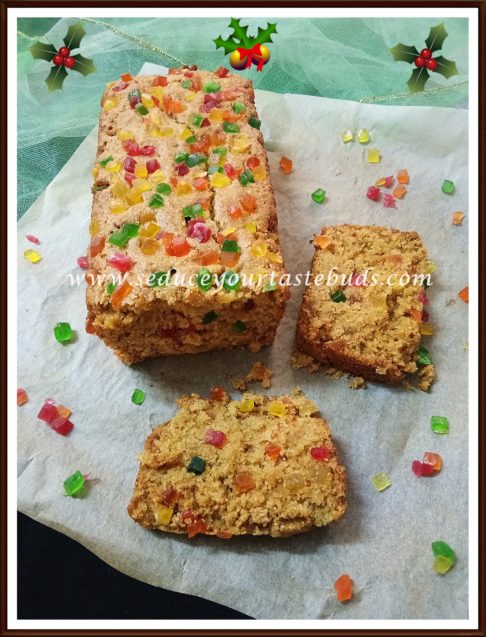 Note:
Use fine semolina. I used a little coarse variety and could feel the texture. I felt the finer variety will be better.
Check the doneness by inserting the skewer in the middle of the loaf tin. The narrow edges of the pan get done faster.
Allow the cake to cool completely before cutting else it will crumble.
You can use sugar / powdered jaggery instead of cane sugar
The same cake can be baked in a round / Square / Bundt pan.
Check out the other bloggers doing this Bake-a-thon
Loading InLinkz ...