Custard with Gulab Jamun Recipe – A delicious make ahead dessert that tastes out of the world and does not take too much of your time either!
Though I like to prepare dishes from the scratch,I do buy a few packs of some ready mixes so that they can be used when we have unexpected guests or when I am too over worked to do a dish from the scratch.
So there was a pack of Gulab Jamun Mix and Custard powder that had been in the pantry for quite a while and were on the verge of nearing the expiry date.
I remembered a fusion dessert from a fellow food bloggers post and then found a good excuse to make it for this month's Recipe ReDux theme.
So, the theme was
Spring Clean Your Kitchen:
Cook with at least 3 ingredients that are actually in your refrigerator or pantry right now. Try not to go to the store to buy anything new. Show us how you reduce food waste by being resourceful!
I also used the omnipresent fridge residents – Chocolate chips and nuts thereby got to use up 3 ingredients from the pantry / fridge!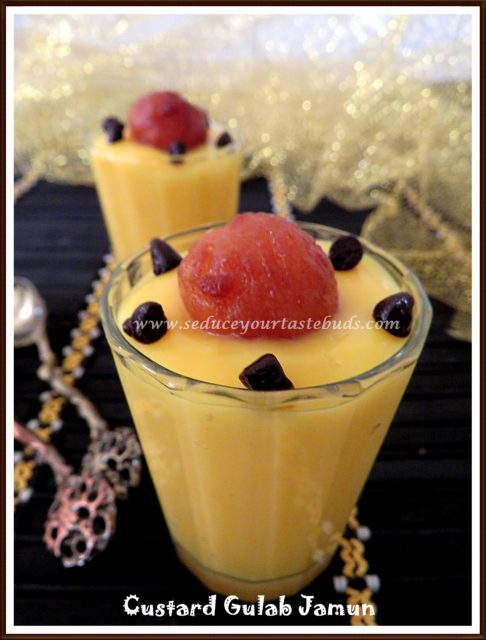 This is a great make ahead dessert. The custard and the Gulab Jamuns can be made ahead and chilled and assembled just before serving. And you do not need too much time to prepare these two dishes.You can even use the ready to serve Gulab Jamuns that you get in the store.
The kids enjoyed this dessert and there are repeat requests as well! Even if these ingredients are not there in your pantry right now, do make it a point to pick them up and prepare this easy breezy dessert and serve it up in the next party!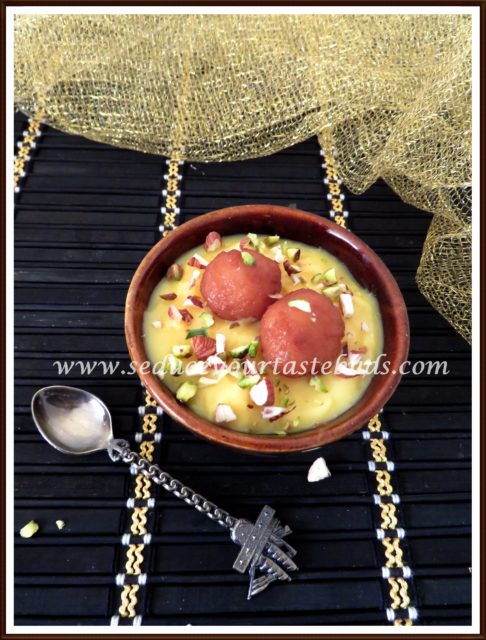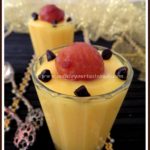 Custard with Gulab Jamun Recipe
A simple yet delicious make ahead dessert
Ingredients
5

teaspoons

Custard Powder

2

cups

Milk

1

Gulab Jamun mix pack

Sugar to taste

Chocolate chips / nuts to garnish
Instructions
Dissolve the custard powder in a little cold milk and keep aside

Heat the remaining milk with sugar and once it comes to a boil, add the custard slurry and cook on medium flame till it thicken a bit

Remove from pan and transfer onto a bowl and refrigerate till needed

Prepare gulab jamun according to the direction on the pack. Drain from sugar syrup after the jamuns are fully soaked. Refrigerate till needed

When ready to serve, place the custard in a bowl and top with gulab jamuns.

Serve chilled garnished with chocolate chips / nut
Recipe Notes
You can use ready to serve Gulab jamuns that are available in the market. Just drain them and chill before assembling the dessert.
Adjust the consistency of the custard by adding / decreasing the quantity of milk used.
Custard will thicken on chilling so don't over cook till it is too thick.
Serve in a bowl / shot glass and can enjoy with a single or double dose of Gulab jamun. You can also use praline for garnish. Tastes yum any way you serve it!