The review of the book The Sun Shines Down by Sankha Ghosh.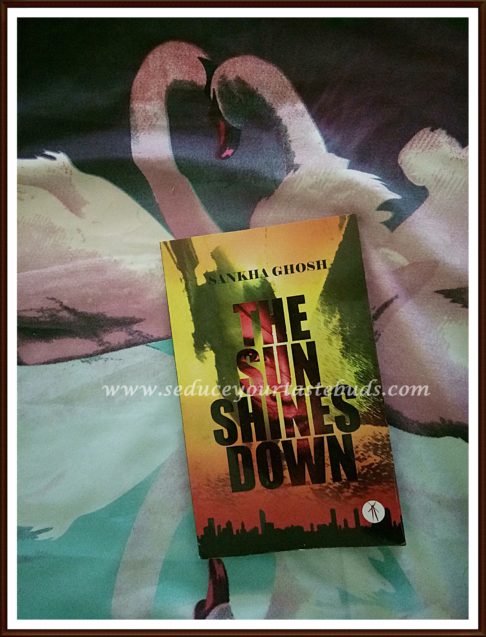 Title – The Sun Shines Down
Author – Sankha Ghosh
Pages –  140
Format – Paperback
Publisher – Hawakal Publishers; 1st edition (14 December 2018)
Genre – Fiction Thriller
Price- INR 250

Shreya Basu is a kind of politician India has hardly ever witnessed and that too from a political party which has been suffering from an existential crisis for last few years. With an impeccable beauty and excellent orator skill Shreya Basu's shot to fame is no less than a fairy tale. But now she wishes to contest election with a powerful incumbent government at their own bastion. But little did she know about the dirty i lands of this murky game of politics. And, in this topsy-turvy ride to power, she came across the enigmatic Hector Fernandez. Obscured by thousands of unanswered questions, Hector Fernandez is haunted by the ghosts of his past. And, to put them to rest, he wants one single thing, Vengeance. And, when Shreya's seamless ambition to acquire power meets Hector's hate-filled stigma of retribution, it wreaks war.
Unmasking the gloomy secrets all the way from the manipulative political lobbyist to the leaden secrets of media-mafia, from the shady by-lanes of Mumbai to the precarious land of Balochistan – the duo challenges the power-barons inviting the threats they barely anticipated to come their way. But even the duo's infallible tactics may not be enough to save their goals, or themselves, from succumbing to their nemesis.

This is a story about two people  – Shreya Basu and Hector Fernandez. The dirty side of politics form the background for these characters.
There are two plots in the storyline. One where Shreya Basu contests in the election and has her campaign being laid out by the media baron Naresh Rajput to make sure that she wins the election.
The second is the young and innocent Faiz Ahmed who has just lost his brother being framed by the police for a crime he did not commit and is in the lock up.He is helped to escape and is trained for a secret mission . His identity changes from Faiz Ahmed to Hector Fernandez.
These two plots run side by side.
While reading the book, it was like the story going back and forth.In some places, I could not connect with the characters. The story jumps and its hard to keep up with what's happening!
Some of the characters / background is not very clear or there is no intro to those characters and scenes. They come out of nowhere and then they are gone!
It is a quick read that says a lot about the dirty politics that surrounds us right now! That part is commendable.
But I felt it would have been nice if the characters had some depth so that I could relate to them and also the scenes could be well sketched out even if it meant the book would have turned out lengthier.
There are places when you feel you are reading 'If tomorrow comes ' and 'Rage of Angels' [both by Sidney Sheldon] and I do not say that in a good way if you know what I mean!
In all I would say this is a quick political thriller that can be a one time read.

Sankha Ghosh is a banker by day and writer by night. Starting off as a environmental activist with an international foundation, he eventually got into the exciting industry of banking. And avid observer, an alternate thinker, and strictly opinionated, his writings have been published in several national and international blogs.
---
I got the book as a part of the review program in Outset 
Check out the 60+ books that I have reviewed so far in the Book Reviews page.
---
Did you like this post?Do leave a comment below..
Follow us on Instagram, Facebook, Twitter,Pinterest.
And don't forget to use those share buttons!