I made this last Sunday to go with lunch.A crispy crunchy snack from Priya's Blog which is being featured in this months edition of Tried and Tasted hosted here.
Since I had only a cup of horsegram ,I added some chana dhal.Otherwise the recipe is the same.It was yummy with lunch and luckily I had some dhal mixture left so we had a few vadais with our evening tea as well.Crispy Vadais and piping hot cup of tea on a cold and lazy Sunday evening is absolute bliss,don't you agree!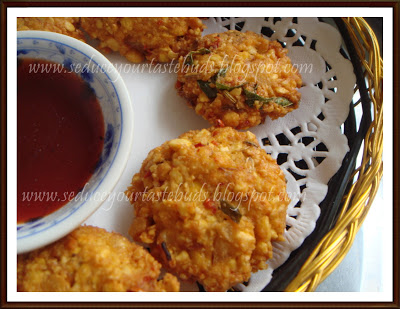 Kollu – Paruppu Vadai
Source – Priya's Easy N Tasty Recipes
I used :
Kollu / Horse gram -1 cup
Channa dhal -1/2 a cup
Onion -1 , finely chopped
Grated ginger- 1 teaspoon
Red chillies-4
Asafoetida-a pinch
Fennel seeds- 1 teaspoon
Curry leaves, chopped – a few
Salt to taste
Oil for deep frying
Soak kollu / horse gram for 2 hours. Soak chana dhal for half an hour.
Drain water from both the lentils,and grind along with red chilli.Grind to a coarse paste . Add a few teaspoons of water if required, not more.
Transfer the paste into a vessel and add onion, curry leaves, ginger paste, asafetida powder , fennel seeds, salt.
Mix well.
Heat oil for deep frying
Shape the dhal mixture into balls and flatten them lightly.
Gently drop them into hot oil and fry till golden brown on both side.
Drain and serve as such or with tomato sauce / a piping hot cup of tea / coffee.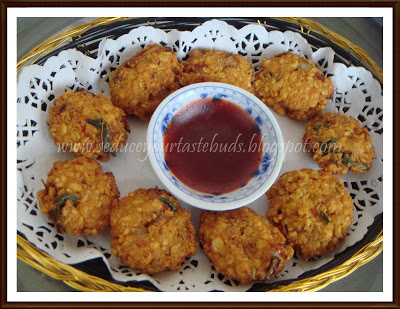 This Day That Year
2008 – My mom's recipe for a delicious Saaru / Rasam
Bon Appetit…