A few years back,we visited the temple town- Madurai in South India.We stayed there for a couple of days and one evening we visited the famous Meenakshi Amman Temple.It is one of the biggest temples in India and its history dates back to the early AD!The architectural beauty is beyond words and it takes a long time to see all the parts of this massive and large temple.

When we were retuning to our hotel,we passed by plenty of small shops selling everything from bangles and bindis to dresses and electronic items.

My eyes immediately fell on a row of small shops that sold used books and guess the first book that I saw!Fusion Food-Vegetarian Special by Komal Taneja.I picked it up and browsed though the recipes and true to is title it had fusion recipes from all over the globe and just below it I found Tarla dalal's-'Forever young diet' book.It was my lucky day but hubby could not hide his amusement.I picked up these two book that looked brand new and wondered what kind of person might have sold them to a used book dealer.Well, that is none of my business,isn't it..
Hubby hurried me into the car worried that I might start looking for more books as he and lil angel were tired and hungry but the enthusiasm in finding these two books renewed my energy level.
So by now you might have guesseed that today's recipe is from one of those books. Yes, it is and it is from Fusion Food-Vegetarian Special by Komal Taneja . I have posted a review here and I had written that this was one the recipes that I sounded interesting and that I would try it out soon.
I was able to make it for this event and it was really an awesome snack!!
I – Italian Bhel Puri Salad
Theme- International / Fusion
I used:
Adapted from : Fusion Food-Vegetarian Special by Komal Taneja
Bhel puri mix – 1 small pack [I used Haldirams brand]
Farfalle Pasta – 10 numbers, boiled and chopped
Tomato-1, small, chopped
Cucumber-1/2, chopped
Onion-1, finely chopped
Potato-1,small, boiled peeled and cubed
Chaat masala, amchur powder- taste[approx 1/8th teaspoon]
Oregano-1/4 teaspoon
Salt to taste
Mint / coriander leaves- finely chopped to garnish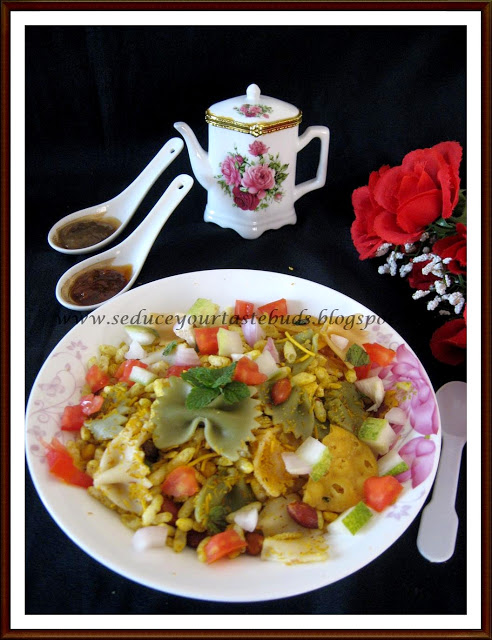 Mix all the ingredients except bhel puri mix
When ready to serve, add the sauces which comes with the pack to the veggie mix.
Add the bhel puri mix and toss lightly.
Serve immediately garnished with mint/ coriander leaves.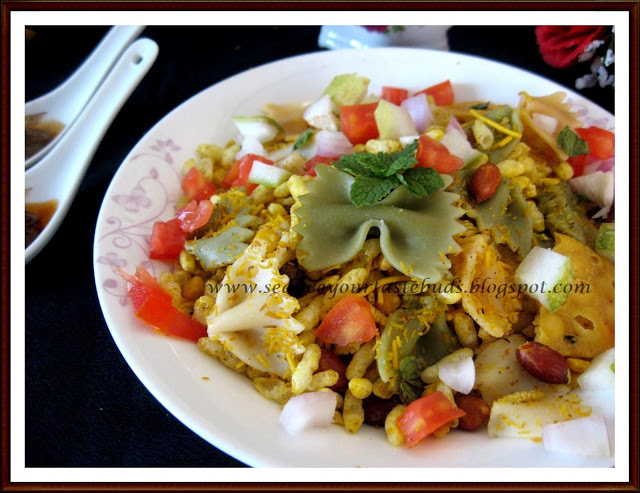 Note:
You can you ready mix for bhel puri or prepare it at home.
Any kind of pasta can be used and the quantity can be adjusted accordingly.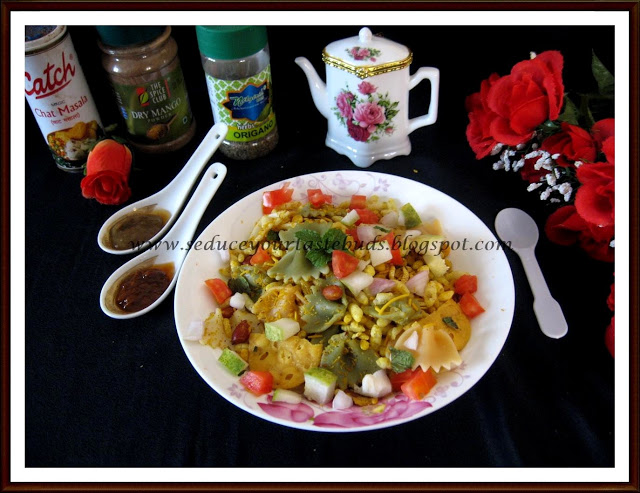 Take a look at the Blogging Marathon page to check out what my friends are cooking in this BM # 32 ,A- Z series…




Logo courtesy :
Preeti
F
–
Falooda
– Ice cream Falooda And Kulfi Falooda – Regional / N.Indian
document.write('