Even once in a while, there is a book fair here that sells Indiana and imported books. I love to visit that fair every time is shows up in my city.Ever since I joined the 52 books in 52 weeks challenge and the Foodies read challenge, I have been buying books like crazy.
So when this fair was in the city a few months back, we went there on a weekend and the place was so crowded. I got a few Danielle steel novels and went towards the cookery section that I really wanted to avoid. I know I have loads of cookbooks yet the I could not resist the pull.
As expected the cookery shelf was crowded and there were mostly books that I couldn't cook from . Then I found this book – Potato lying beneath a pile of other non-veg related cookbooks. I went through it and loved it that very instant. Without even looking at the price, I made up my mind to buy it!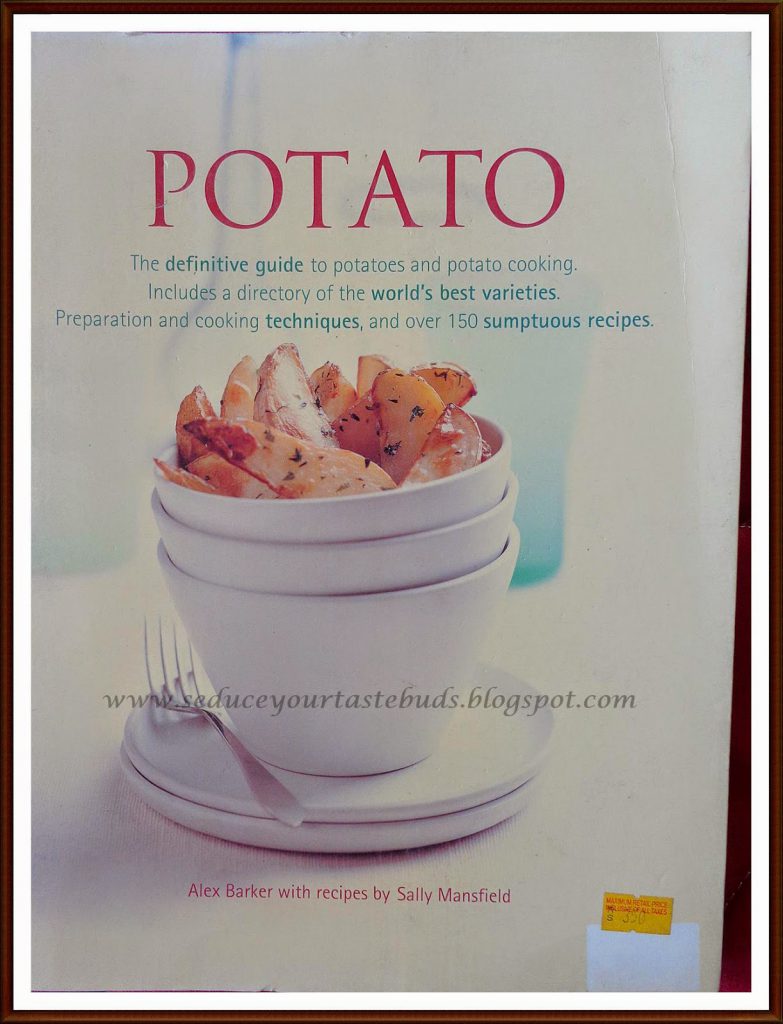 It is a 225 paged book by Alex Barker with recipes from Sally Mansfield.And it says it is the definitive guide to potato and potato cooking. And I can vouch for this!
The table of contents…
The potato – It's history
Growing your own potato– Clearly explained with step by step pics
Preparation techniques – Cleaning, scraping,grating,peeling chopping slicing, dicing by hand etc explained with step by step pics.
Cooking techniques– About 20 cooking techniques are explained with pics for each method. Some of the attractive ones are potato parcels,piping mashed potato,Rosti, Croquettes etc.
Buying and storing
Equipment
Potatoes of the world – This is the section that impressed me the most,. It is a 40 page guide to the different types of potatoes that are grown around the world.The resume includes a description of each potato along with details on origin,availability,suitability for cooking,etc.Take a look…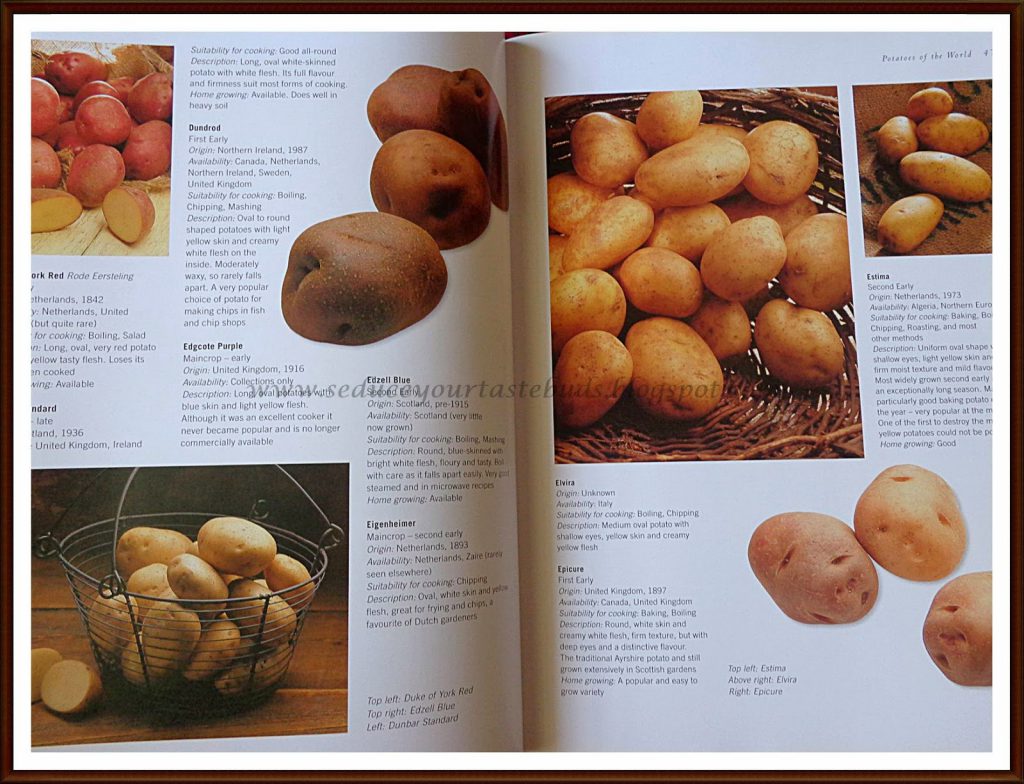 Then comes the recipes…
Soups -16 recipes
Starters – 16 recipes
Salads – 16 recipes
Side dishes – 28 recipes
Meat and poultry dishes – 20 recipes
Fish dishes – 16 recipes
Vegetarian dishes – 18 recipes
Breads and scones – 15 recipes
Index
The other best thing about this book is that it has lots of vegetarian recipes in the salads,soups,starters and sides,breads and scones as well that are really easy to make.It even has some Indian recipes like Aloo Sag, Masala Mashed potatoes, Bombay potatoes!Each recipe has a pic of the dish and even step by step pic for better understanding.The full page pictures are so tempting that they want to make you grab them off the book!
I have bookmarked almost all the vegetarian recipes from this book and will be trying them out soon.
I am so glad that I got this book[imported edition] and the INR 350 I paid for it is worth every cent!
On another note this is my 1400th post and the 100th post for the year!Yay!!!

Happy browsing…