I have mentioned here many times that I love taking part in challenges hosted in a cooking/baking group.When I see a new group and if it interests me, I immediately join the group and then I break my head into cooking and baking and posting.Well , that's another story.But still I love the cooking groups. They help us learn new things, make us leave our comfort areas and make us challenge ourselves.
So this #Bundtbakers group is a group that I joined recently and this is my first post in this group. I fell in love with bundts when I baked my first bundt – Red Devil Beet Bundt Cake .Since then I have been collecting bundt pans.I now have one 18cm pan and two mini bundt pans.The collection is small but I am sure it will grow!But with these 3 pans,I have been putting them to good use and like me the kids too love bundts!
This month, our hostess Anne who blogs at From My sweet Heart chose the theme Lemons.I have always wanted to bake a lemon and poppy bundt but I don't get black poppy seeds here. And the white ones won;t show out brightly if used.So I have put off this idea till when someone from abroad brings me a pack :).
Today I have a simple ,eggless lemon cake made with whole wheat flour. Usually, there is a theory that wheat based cakes are dense. It is surely not so as I have baked quite a few cakes with whole wheat flour and the result is always a success. My kids finish off the entire batch within a day. One can never cheat / force kids to eat, right!So when the bakes disappear, it means it is a success!
The following recipe is something that I had bookmarked from another blog and went ahead and baked it. The result was awesome! The house smelt lemony and the glaze took the cake to another level!
I used:
Adapted from Sunita's World
Makes– 15 mini bundts
Whole wheat flour- 3/4 cup + 1 tablespoon
Sugar – 1/4 cup
Oil- 1/4 cup
Milk-1/2 cup
Baking Soda-1/4 teaspoon
Baking powder- 1 teaspoon
Tutti frutti[candied papaya]-1/4 cup
Lemon juice- 1/4 cup
Grated lemon rind-1 tablespoon
Take the tutti frutti in a cup and add 1 tablespoon flour and shake well to coat. Keep aside.
In a large bowl, take the flour, baking powder, baking soda, lemon rind and whisk.
In another bowl, take the milk,oil, sugar and whisk till the sugar dissolves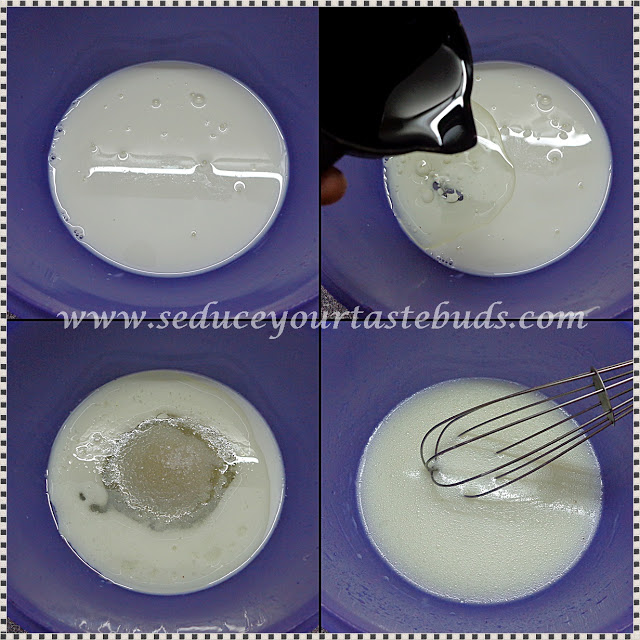 Add the tutti frutti to the flour[along with the flour used to dust it].Tip in the milk mixture and mix so that there are no lumps. Add the lemon juice and fold gently.The micture will froth up a bit.
Pour into bundt moulds and bake at 180 degree C / 350 degree F for 10 minutes or till a skewer comes out clean when inserted into the cake. Once the cake is done, remove from oven and let it rest outside. After it cools a bit, remove the cake from the pan and cool on a wire rack.
For the glaze, add lemon juice to icing sugar and mix well to get a free flowing icing .Drizzle over the cake after it is completely cooled.
This cake is a delight to the taste buds !!
Note:
You can use APF instead of wheat flour.
Adding tutti frutti is optional. My kids love it, so I have used it here.
Check out the other lemony creations here….
#BundtBakers is a group of Bundt loving Bakers who get together once a month to bake Bundts with a common ingredient or theme. You can see all of our lovely Bundts by following our Pinterest board right here.
We take turns hosting each month and choosing the theme or ingredient.
Updated links for all of our past events and more information about BundtBakers can be found on our homepage.