How to cook soya chunks with step by step pictures
A couple of month ago, Lil Angel came back from school and told me about the lunch her friend had brought to school.
She described it be spicy , with a lot of masala and with some round brown stuff that was spongy. The kid did not know the name!
I showed her the pic of soya chunks and she jumped with joy telling, Yes its the same one!
I never realized she would like the soya chunks now as she failed to eat it when given in her early years. Yes, their tastes and preferences change, don't they!
So along with this came a request to make the same rice for her lunchbox and I did make this Soya Chunks/ Meal maker Briyani . She enjoyed it and even her friend remarked that it was better than her mom's version! Kids!!
Though I am not a huge fan of soya chunks, I make it for the kids who seem to have taken a liking for it!
Soya Chunks / Textured vegetable protein, meal maker, is made from defatted Soy flour, which is a by-product after oil is extracted from the bean.
It is a meat replacement and a good vegetarian protein source.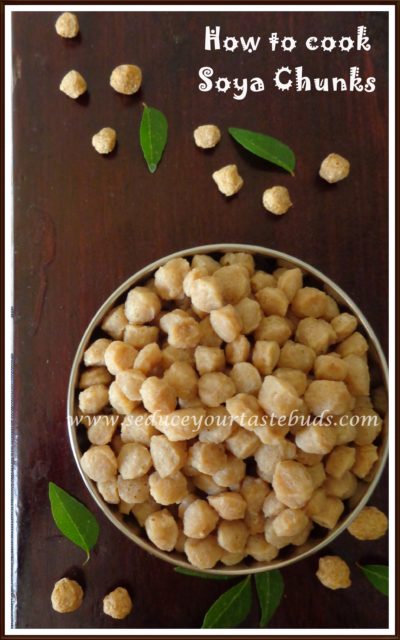 Here is how to cook these soya chunks that can be used in a variety of dishes.
Heat plenty of water in a large pan and add 1/4 cup milk and piece of ginger to it. These two take off the odor from the soy chinks. When the mixture comes to a rolling boil, add the soya chunks. After a minute, switch off the flame and cover the pan. Let it stand for 10 minutes,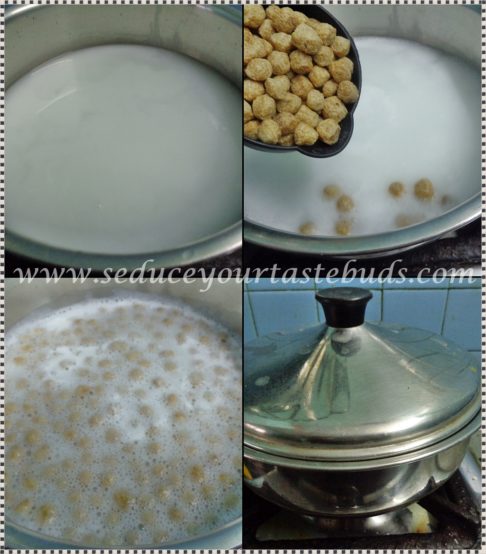 Drain the water and rinse twice in cold water. Finally squeeze out the water from the soya chunks .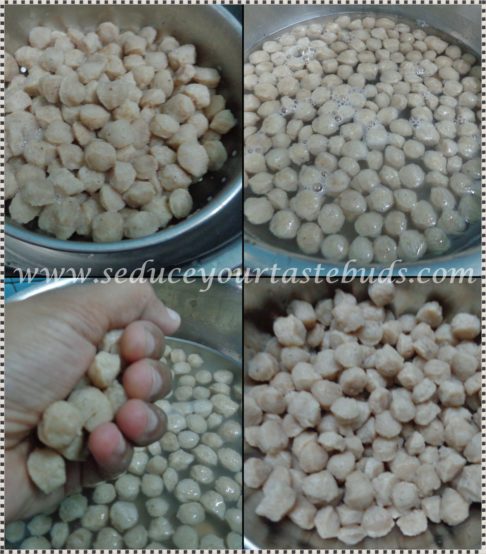 Use as needed.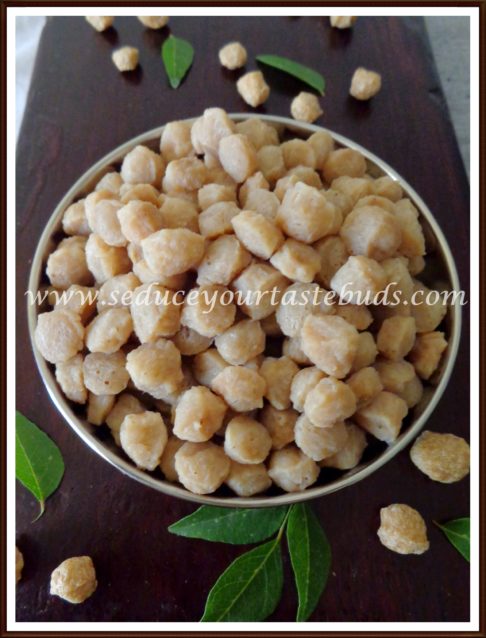 Soya chunks can be used in Briyani, Pulao,Manchurian, Gravies, Paratha stuffings etc.