Maghrebi Mint Tea Recipe
Tea and coffee recipes are something that I like to experiment with. For one, it is easy to prepare and I can make just the quantity that I need .And at times, when I am in need of a recipe that has to be posted before the deadline, that's when the real use of experimenting with beverages comes handy!
Like today when I just had a few minutes to cook and click for the theme of the week – Moroccan dishes in Blogging Marathon #83,week 1 ,Day 2, I sought out this simple tea recipe that I had bookmarked ages ago!
Though the recipe is simple the preparation and the tea culture of Morocco is interesting!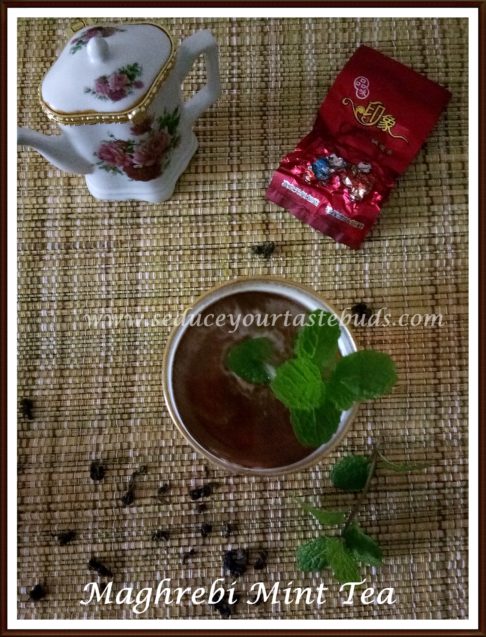 Maghrebi mint tea is also called also known as Moroccan, Touareg and Sahrawi mint tea. It is a tea prepared in the greater Maghreb region which consists of Morocco, Algeria, Tunisia,Mauritania, Libya.
It is prepared with green tea ,spearmint leaves and a sweetener and is native to the Maghreb region.
When guests arrive, the [male] head of the family prepares this tea and offers it to the guest which is a mark of hospitality.
This tea is consumed throughout the day during social functions and it similar to serving alcohol in the West during similar occasions
Gunpowder tea is used for this preparation. It is nothing but green tea leaves rolled into small pellets.
As with any recipe, the method of preparation varies from family to family.
Here is how to prepare this warm cup of Maghrebi Mint Tea Recipe
I used:
Gunpowder tea leaves- 2 teaspoons
Water-200ml
Mint leaves- a fistful
Sugar to taste
Boil water in a vessel and add the tea leaves to the boiling water. Switch off the flame.Cover and let is steep for 10 minutes.
Without disturbing the tea leaves, pour out the tea onto a kettle/ teapot
Add sugar and heat the tea.
Put in the mint leaves and let it sit for a minute.
Serve immediately with a sprig of mint in the glass.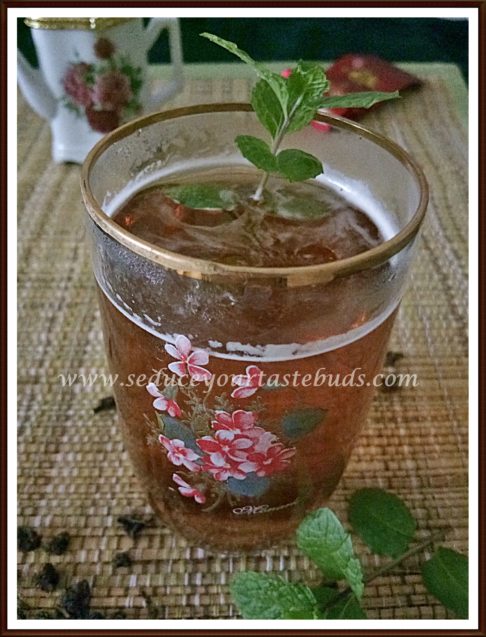 Another way to prepare this is to add the spearmint leaves along with the tea leaves and bring to boil. It is then strained and serves as above.
I have also posted a few other  recipes from Morocco . Do check them out.
Check out the Blogging Marathon page for the other Blogging Marathoners doing this BM#83