One of the easiest snacks / breakfast dish to put together is this Usli made with puffed rice.Its so simple that you will never realise you are 'cooking' something!
Mandakki is puffed rice in Karnataka,also known by the names Pori,Murmura etc. and this dish is a sort of 'upma' / stirfry with vegetables.
I used:
Mandakki /Pori /Murmura -5 cups
Toamto-1 large chopped
Onion-1 large,chopped
Grated carrot-1
Grated ginger-1 teaspoon
Roasted peanuts- a handful
Curry leaves a few
Green chillies-2,slit
Coriander leaves to garnish
Salt to taste
Oil-1 teaspoon
Mustard-1 teaspoon
Cumin seeds-1 teaspoon
Gram dhal-1 teaspoon
Turmeric powder- a pinch
Heat oil in a pan and put in mustard,cumin,gramshal,curry leaves.
When the mustard crackles,put in curry leaves,ginger,onion,green chillies and saute till onion is translucent
Put in tomato and cook till soft.
Add the turmeric powder.Put in grated carrot and cook for a couple of minutes.
Simmer.Meanwhile take a large basin with water and put in hanfuls of puffed rice into the bowl and immediately sqeeze out the water and put it into the pan along with the other ingredients.This has to be done quickly or else the puffed rice will be very soggy.
Mix well and check for salt.Add more if required.[The puffed rice has some salt so check before adding.]
Remove from heat and serve garnished with coriander leaves.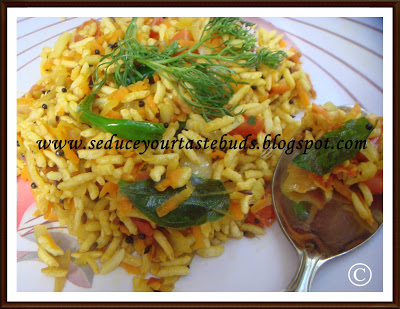 Other recipes with puffed rice
Susheela-A Maharastrian Snack with a small dose of vegetables.
Bhel puri– A famous street food loved by young and old alike.
Masala Pori –Crunchy Puffed rice with a hint of spices.
Bon Appetit…