Side dishes for Chapathi / paratha is always an issue at home. When the side dishes are repeated , I can sense their feeling.So I try to keep a gap before I repeat the dishes that go with the tiffin By chance if I have to repeat any dish , I make sure its something the ones at home would love to have again. One such side dish is this Rajma masala. Sadly , the pic in the original post is not so appetizing.
So here is the brand new pic for the tasty and our favorite recipe.A few days back we had this with Punjabi Aloo Anardhana Kulcha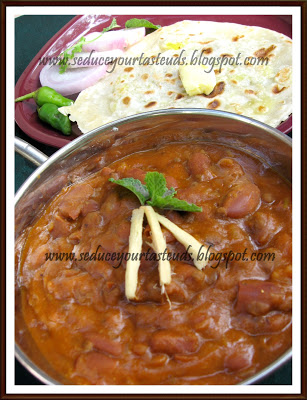 Here is the recipe that I adapted from Sanjeev Kapoor's recipe…
I used:
Rajma- One and a half cups
Tomato Puree- 1 cup
Onion-1,finely chopped
Ginger garlic paste-1 teaspoon
Bay leaf-1
Coriander powder-1 teaspoon
Cumin powder-1 teaspoon
Red chilli powder-1 teaspoon
Garam masala-1 teaspoon
Salt to taste
Oil- 2 teaspoons
Soak the rajma overnight.Drain and pressure cook with enough water till soft but not mushy.Retain the cooking water.
Heat oil in a pan and put in onion and bay leaves
When the onion is translucent,add ginger garlic paste and cook for 2 minutes
Add Tomato puree and mix well.
Next put in garam masala,coriander powder,cumin powder,red chilli powder,salt and mix well.Cook till oil oozes out from the masala mixture.
Put in the cooked rajma and the water used to cook it.
Simmer for 10 minutes and remove from heat.
Serve garnished with coriander leaves.Goes well with Chapathi / steamed rice.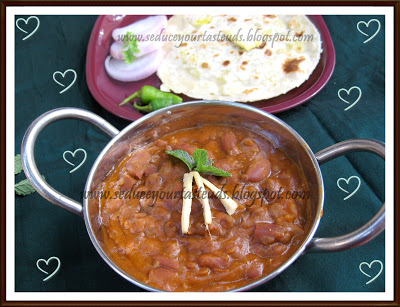 Check out the
Blogging Marathon page for the other Blogging Marathoners doing BM#17
Bon Appetit…