The famous Arabian dates finds its way into my house and I can always feel its presence. I have boxes of these delicious and nutritious fruits in my pantry. Friends and family who drop by to see the Lil ones invariably bring in this fruit along with some snacks and stuffs for the kids. So the result –a tasty collection of
recipes with dates
here in my space and I can say this one is the most simplest and delicious of them all.
When I took up the 'stuffed dishes' theme for blogging marathon, this was the first dish that came to my mind. I have seen dated stuffed with whole almonds / cashews on the shelves of the super market. Making these would be a breeze but that will be too easy to showcase for BM. Then when I thought of making an almond paste and stuffing it.The idea sounded delicious!
Mom had passed on some badam katli when I had visited her and in order to make
life
the recipe easier, I stuffed the dates with the katli instead![Badam Katli is an Indian Sweet- a fudge, prepared with almond paste, , milk and sugar.] The stuffed dates were gently rolled over sugar and garnished with a little bit of almonds. After a bite, you get to experience the various textures – creamy almond paste, the little fiber from the dates, and the light crunch from the sugar and nut garnish. Wow! It was an absolute delight to the taste buds!!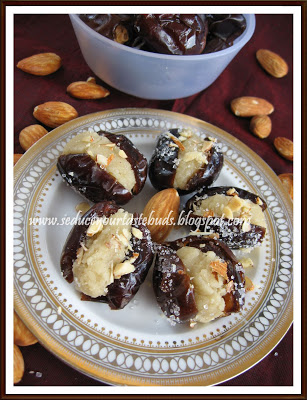 You need :
Dates
Badam Katli,crumbled
Sugar
Chopped almonds
Cut open the dates and remove the seed.
Stuff it with a good quantity of the katli.
Gently roll it over sugar
Garnish with chopped nuts.
This can't get any easier, can it!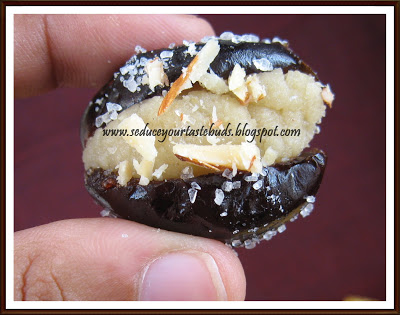 I love the fact that it is so easy to prepare and taste absolutely delicious. It is also a novel way of serving fruits as / in desserts….
I guess we can also use kaju [cashew] katli / barfis / halwas etc to stuff dates. Even the kids can assemble these mini bites! It would be an excellent choice for parties!! I made a small batch to check how my folks like it and since it was a hit, I can't wait to prepare a larger batch to serve at some get together…
Check out the Blogging Marathon page for the other Blogging Marathoners doing BM#18
Bon Appetit…