The much awaited month long Blogging Marathon begins today and we, a whole bunch of bloggers who may seem to be crazy to the outside world but are challenging ourselves with new themes every week, are super excited about it!
Since we are on a month long journey into feasting some delicious foods under the 4 categories- Baked, Regional[Indian], International / Fusion and Misc/ Street food/ recipe less posts, I thought I will start off on a healthy note.
As the header suggests, this post is a flour-less bake that uses Adzuki beans… This is the first time I made a flourless cake and it is indeed yum and delicious!
A– Azuki Bean Brownies
Category – Baked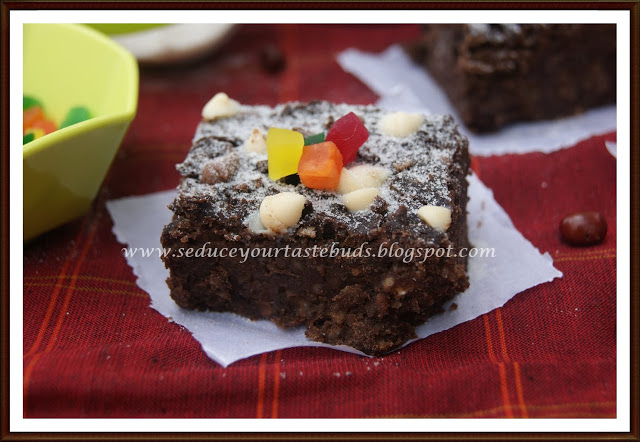 Adzuki beans is very commonly used in the East Asian countries. It is also known by the names Adzuki or Aduki. The botanical name is Vigna Angularis .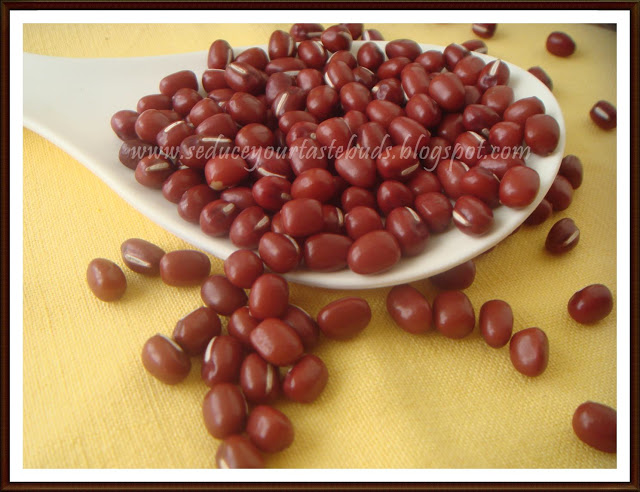 This bean has a very long history! It is said to have been unearthed in some archaeological site in Japan and the beans have been dated back to somewhere between 4000 BC to 2000 BC!
Most of the times this bean is used in sweet dishes i.e.this bean is used in the mostly in the Japanese , Korean and Chinese confectionery . It has a strong, sweet and nutty flavor.
Until I went to China, I had never seen it. So I was naturally tempted to buy some and try it out. I made a few sweet dishes with the help of our Chinese friends and then I started using it like out regular dal and replaced it instead of Moong dal.It did taste good in savoury dishes too..
Now coming to the nutrient content , we find that 100 grams of the cooked beans provides
128 Calories
7.5 grams – Protein
0 Fat
0 Cholesterol
25 grams Carbohydrates
7.3 grams dietary fiber
It is a nutrient dense bean and is a good source of Folate, Phosphorus, Iron, Magnesium, Potassium, Manganese and Zinc.
So as I was telling you earlier, isn't cooking something with this nutrient bean a healthy idea!
I looked up various recipes on the net and made my version. This brownie is not going to be fluffy like a cake. It is a little dense but you will absolutely love every bite of it.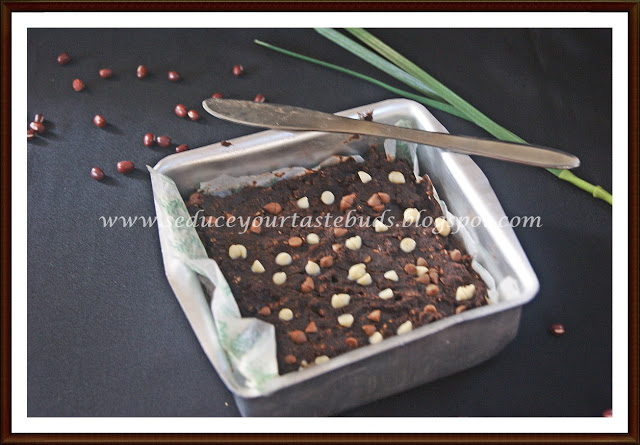 I used:
Adzuki beans- 1 heaped cup
Bananas -1,medium sized
Cocoa powder, unsweetened – 1/4 cup
Egg replacer- 1 tablespoon dissolved in 3 tablespoons of water
Sugar- 1/2 cup
Quick cooking oats -1/4 cup
Chocolate chips – 1/4 cup
Chocolate chips , tutti frutti for garnishing
Icing sugar – to dust on top
Soak the beans in plenty of water, over night
The next day, wash , discard water and pressure cook with 3 cups of water for 15 minutes or till the beans is well cooked. It is ok if the beans turn mushy.Drain if the extra water.
Blend the cooked beans, banana, sugar, cocoa powder, oats till smooth.
Transfer to a bowl and add the egg replacer mixture.
Add the chocolate chips and combine to mix.
Pre heat the oven to 350 F / 180 C.
Transfer the batter into a square tin lined with butter paper [Mine is 8X8 pan]. Sprinkle some chocolate chips on top.
Bake for 30 minutes or till a skewer comes out clean [ Oven times may vary so adjust time accordingly]
Cool completely before slicing.
Serve as such / dusted with icing sugar and tutti frutti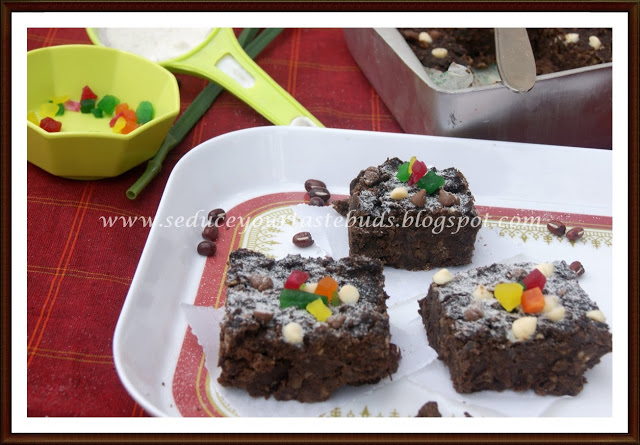 Note :
You can use 2 bananas and leave out the egg replacer. I had just one banana at home the day I baked this brownie so used the egg replacer.
You can omit the chocolate chips and make it even more healthier.
The sweetness was just right so increase the sugar if you have a sweet tooth.
Also sugar can be replaced with brown sugar.
You can also add nuts in the batter before baking.
Take a look at the Blogging Marathon page to check out what my friends are cooking in this A- Z series in BM #32…



document.write('