Cooking with herbs, flowers and millet is turning into an obsession of sorts! To kindle this obsession further, the Recipe ReDux Team chose Floral Flavors as the theme for the month!
The 'Recipe ReDux is the first and only recipe challenge founded by registered dietitians and it focuses on taking delicious dishes and keeping them delicious yet making them better health-wise! Now , isn't that something great!
I saw this themed event in Siri's blog last month and made a request to join the group and I was so glad that I got accepted!
So, as I was telling you earlier, the team chose flowers as the theme and my mind was filled with so many ideas that I wanted to make each one of them. Then when I saw a jar of Gulkand in the local grocery store, I knew I had to make something with it for the ReDux post and here you have it- A rich and delicious milkshake.
This milkshake is very apt for the Indian [or any] summers and is rich in Calcium. It has loads of health benefits and you can find them all listed below. The kids will love the flavor of this milkshake and if there is any kid who hate the flavor of milk , this is one way you can serve it and the kid will never notice that it has milk!!!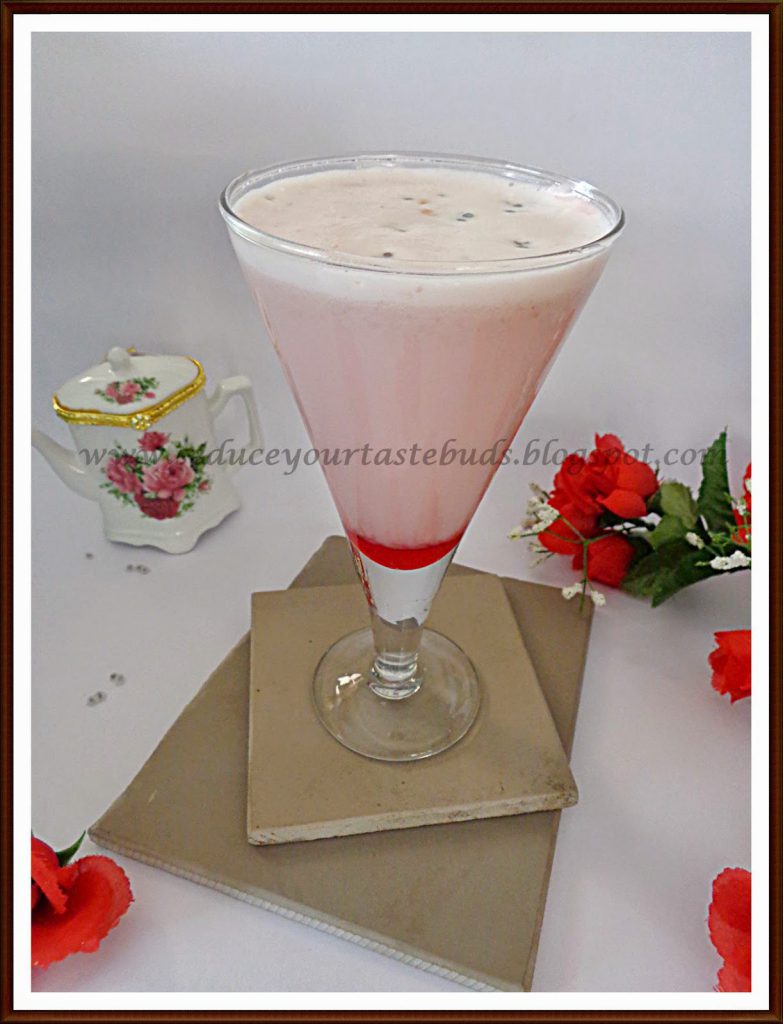 Gulkand or Gulquand is nothing but sweet rose petal preserve.It can also be called Rose Petal Jam.This preserve is famous in India and Pakistan.
The preparation of Gulkand involves mixing sugar and Damask rose petals and exposing them to sunlight for more than 6 hours a day and this goes on goes 3-4 weeks. On alternate days the mixture is stirred using a wooden ladle.
Generally, some additives are added to it. The one I got had poppy seeds, cardamom, powdered almonds.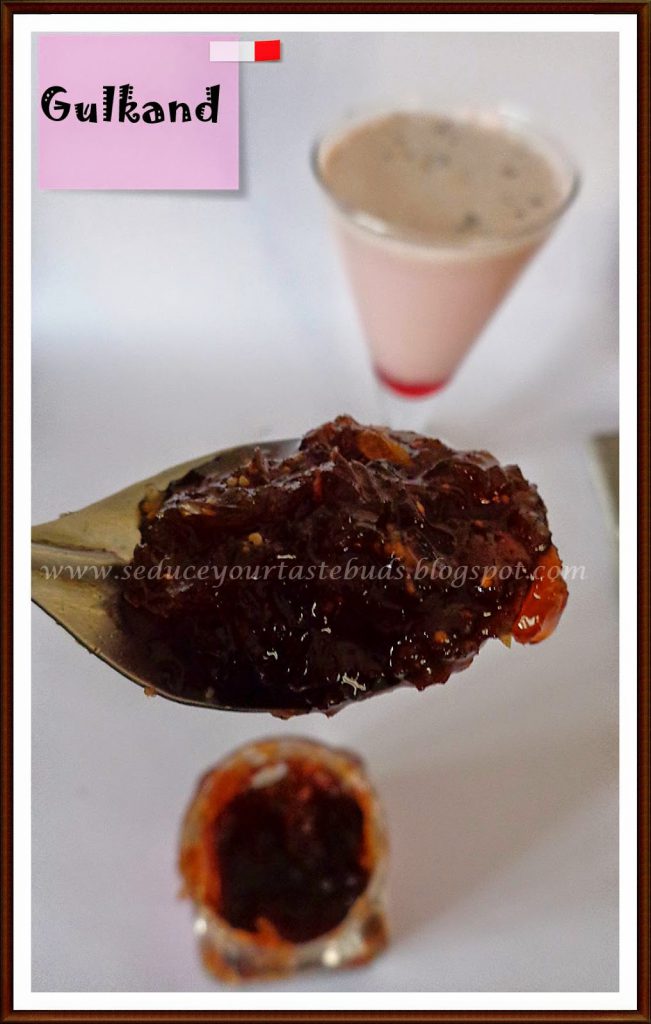 According to Ayurveda, Gulkand has loads of health benefits…
It is an excellent body coolant and reduces the Pitta / body heat.
Gulkand has antioxidant properties.
It rejuvenates the system.
An effective remedy for stomach ulcers / acidity.
For women, it is said to relieve menstrual pain and reduces white discharge.
It is a memory tonic.
Acts as a mild laxative.
Good digestive tonic.In my part of the world, a betel leaf wrapped up with gulkand and other digestives are served after a heavy meal. There are small shops that sell these too.
Last but not the least it is an aphrodisiac!
Usually the recommended dosage is 2 teaspoons per day but if you have any health related problems, you should first consult your Physician and then start with this dosage.
To this tasty recipe I have added basil seeds.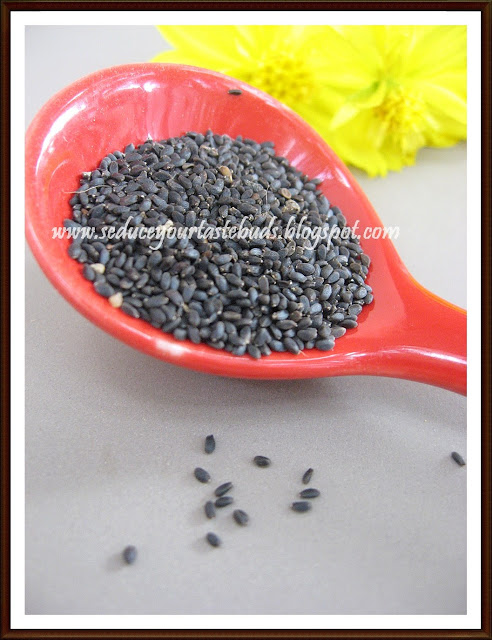 This is soaked in water for a few hours so that swell up….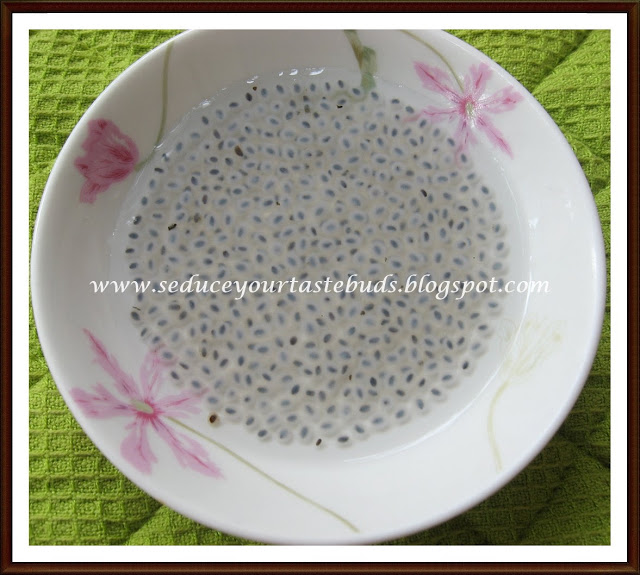 Basil seeds are also called Subja seeds, sabja seeds, Takmaria seeds,thukamaria seeds etc and is one of the important ingredient of the famous Falooda.
Basil seeds are black in color, resembling black sesame seeds, only a little smaller.When soaked in water they 'bloom' and attain a jelly like structure and has a light crunch to it.They have no flavor of their own.
These seeds are said to aid weight loss, overcome skin infections and relieve stress. It is also a body coolant and hence added to a variety of beverages and consumed in summer.
Along with this I have added cashews for richness.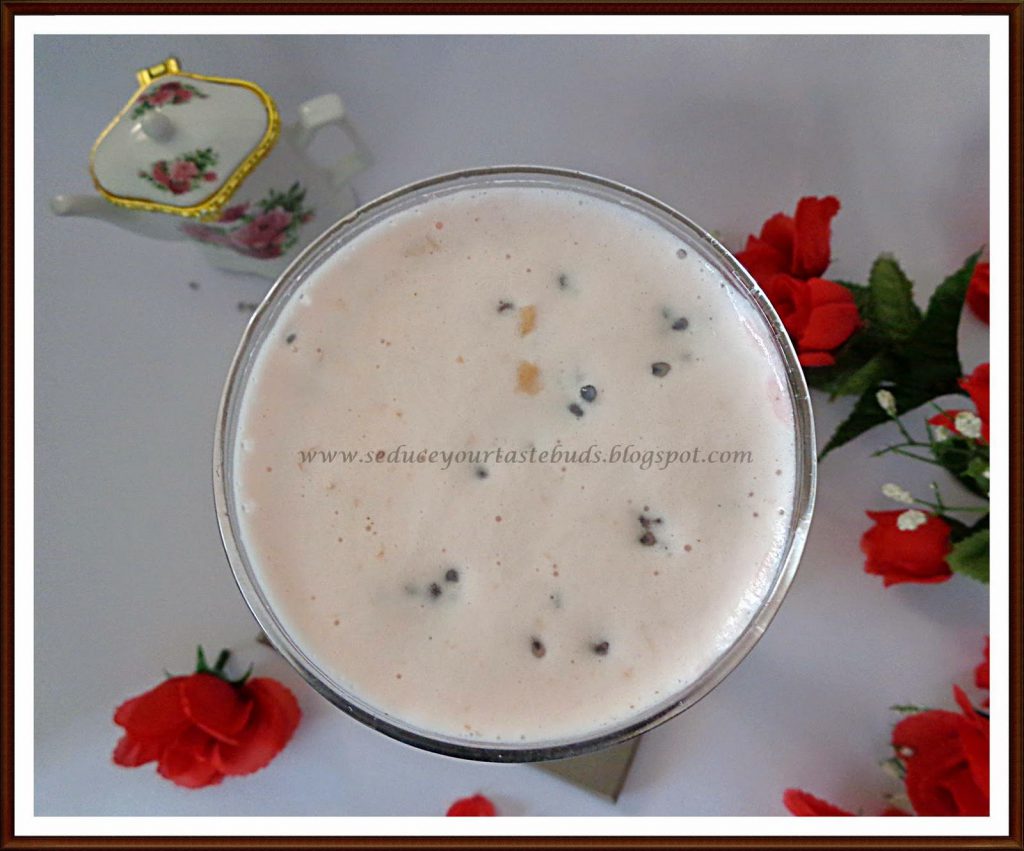 Here is how to make it…
Soak
a handful of cashews and 1/8 teaspoon basil seeds
in warm water [in separate bowls] for half and hour..
In a blender take the
cashews, 2 teaspoons of Gulkand, 200 ml milk a few drops of rose syrup
and blend well.
Serve topped with basil seeds….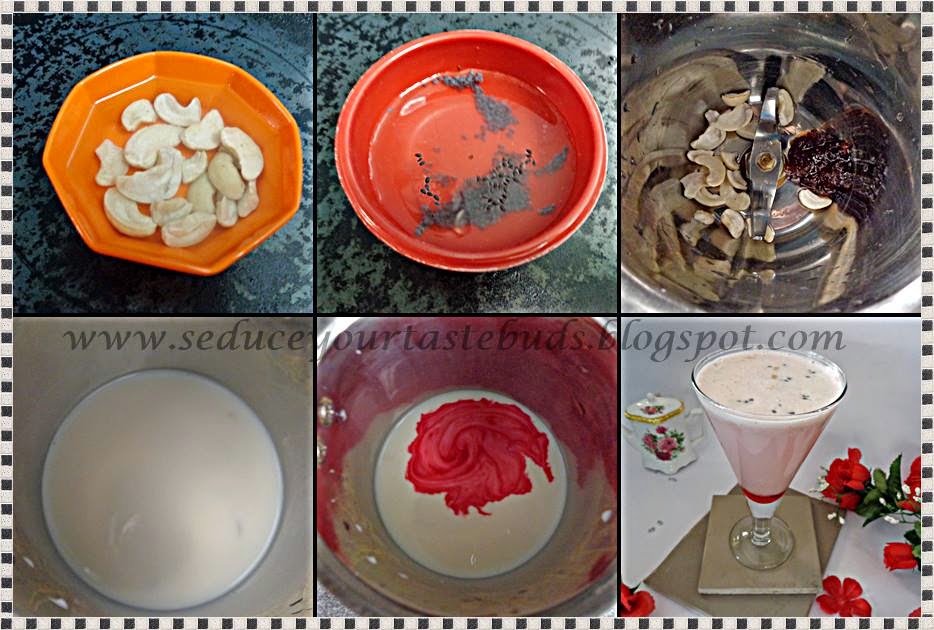 Note:
The drink was sweet enough. So I have not added sugar. If you like it a bit sweet add sugar / honey / any sweetener of your choice.
The basil seeds will sink to the bottom but you can feel the crunch once you sip it
Any other nut can be used instead of cashews.
Also you can skip the cashew if you are allergic to it or don't prefer to use it.
The use of rose syrup is optional . I added it to give it a faint pink color.
The basil seeds are also optional
You can just blend 2 teaspoons of gulkand in a cup of milk and enjoy the flavor and health benefits!!!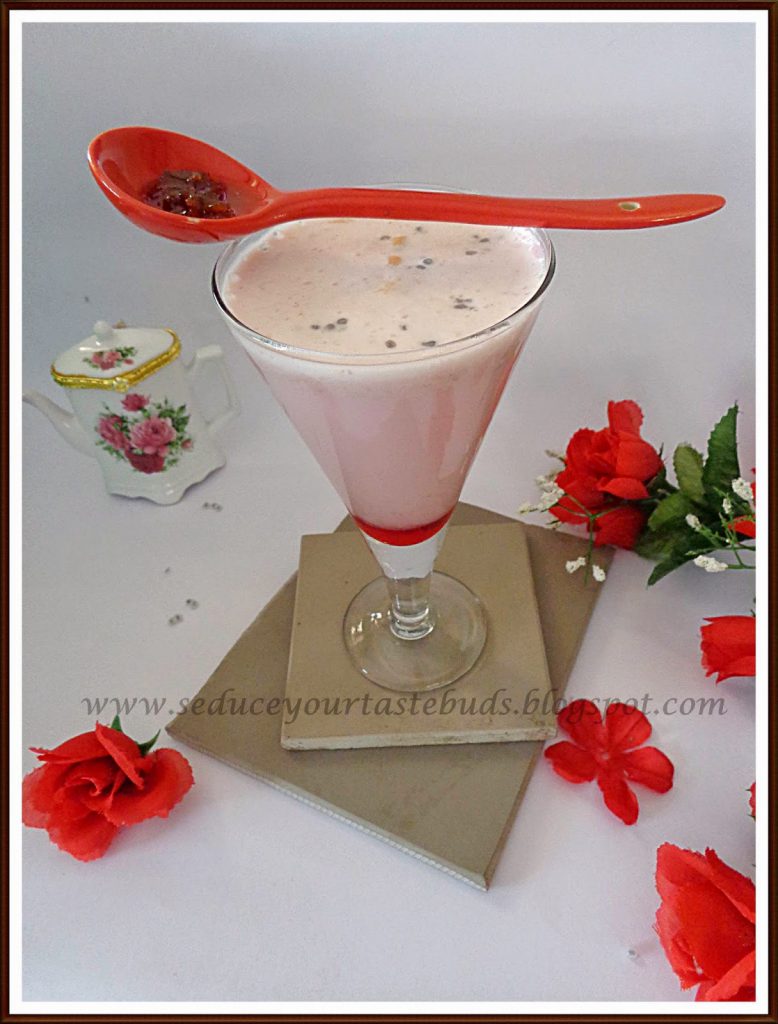 There are a lot of recipes that I have planned with this jar of Gulkand that I got. Hoping to post them all soon…