Don't we all have this yearning to turn into a kid again? I do! And many a times I go back to those good old days and live those moments in my mind.
The days filled with no big responsibilities, play times, vacations, enjoying the free times with friends! Wow!! I wish the clock would just go back!!
One of the other things that remind me of the childhood days are the comics, story books and the cartoon shows on TV.
I am a huge fan of Enid Blyton and still treasure many of her books!I used to be transported to the fantasy land through Secret 7, Famous 5,Noddy,Malory Towers,etc.And then there are Roald dahl's books that I still love to read when I find time.Matilda is my fav!
There are so many that I can add to the list of authors and how much loved and enjoyed each of those books. But that itself would fill a full blog!!
So moving on , I love cartoons and kids shows on TV. Tom and Jerry, Popeye are my favs. I still remember the show, Small wonder and loved the Vicki character.Animated movies like Cinderella,Snow white, jungle book …..So many memories!!
Wondering why I am talking so much about kids books and TV shows?
Well, I am hosting Srivalli's Kid's Delight event with the theme – Cooking From Kids Story Books / TV shows .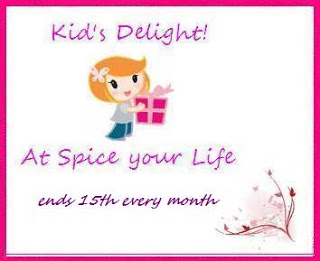 I remember curling up with my favorite book and some munchies and then dream about all the places in the book and the wonder how the food that was mentioned in the story would taste like!
So in an attempt to relive those childhood moments, here is what we will be doing this month…
Cook and blog about any Vegetarian[Eggs allowed] dish that fits the theme – Cooking From Kids Story Books / TV shows.The dish that you have cooked should be mentioned in a kid's book / comic / Kids TV show.One famous example would be Pumpkin juice mentioned in Harry Potter Books. Anything similar is acceptable…If you are still not sure check out these posts to get a better idea – Eggless Vanilla cake, Masala Oats Porridge.
In your post please mentioned from which book/ TV show the dish has been adapted.A pic of the book / link to the book / TV show is also appreciated but not compulsory.
It should be a dish that is approved by your kid or kids from your family / friends
Multiple new entries are allowed.
Archived entries are not accepted as we are looking for new ideas.
Recipes sent to this event can be shared with other events as well.
Link to this post and to Srivalli's Kid's delight post (http://spicingyourlife.blogspot.com/2010/01/announcing-kids-delight-wholesome.html)
is mandatory.Using the logo is appreciated.
Non bloggers are also welcome to send in their entries.
The dead line is August 15th 2015.
Drop a mail to seduceurtastebuds@gmail.com with the subject line – 'Cooking From Kids Story Books / TV shows' with following details
• Your name and the name of your blog
• Recipe name
• URL of the post
• Picture of your creation
Please
leave a note in the comments section after you have mailed me your
entry. And also feel free to write to me for any queries.
Looking forward to see all your creations…