Second Spring is Sandhya Jane's debut novel.It is a contemporary love story set in Mumbai and then shifts to the US.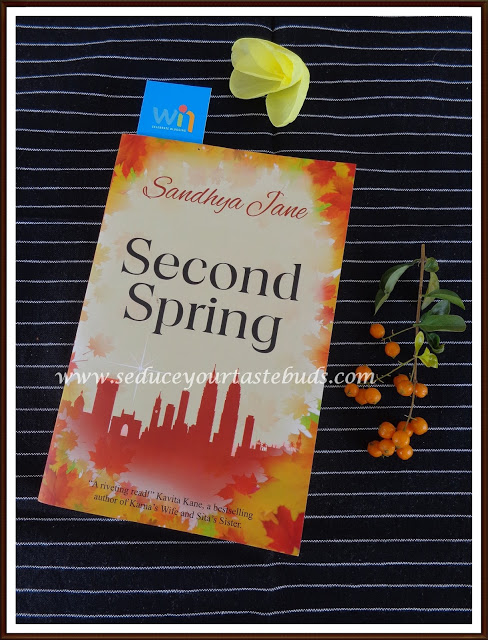 This book was sent by BlogAdda for review.I had some free time today and sat down to read this book.
It is a modern love story that has hints of traditionalism within it.The story revolves around Avantika and Rohan.
Avantika is a smart and successful single mom.She is in the banking profession and is held in admiration and awe by her peers. Life spins around her work and her little boy. She is content or makes it look like she is content with the things as it is in her life.
In walks Mr. Handsome aka Rohan.He is a part of her clients team and later shifts base to her office. He is six years her junior and also a smart and intelligent guy because of which Avantika feels with a little mentoring he will be her successor.
Right from day 1 both feel drawn towards each other. Avantika and Rohan are not sure if it is love or the care for each other that is mistaken by the other as love.
Rohan admires her for professionalism and charisma and also how she efficiently juggles the roles of being a single mom and also successful in her career.
Avantika falls for his charming smile and feels that she has to see him every day, be with him everyday and yet something holds her back.
The two often go out of town to meet clients and on one such occasion Rohan is not able to hold back the passion and confesses his love for her. Spending the night with Rohan looks like life is bliss until he receives a message from his sister that their parents have a girl ready for him and the engagement is to take place very soon.
Unable to spell this out to the sleeping beauty nearby and scared to confront his traditionalist parents ,he packs his bags and leaves the room.Avantika sees his letter and the impact of his actions creates a huge crater in her mind.
Though she returns to work, she is unable to function normally and asks the management for a transfer to the US even though she has to give up her position and settle for a lesser position. That would mean Avantika would have a less hectic life style especially since she finds out from a recent visit to the Doctor that her heart is over taxed!
Much to her father's displeasure, Avantika and Aarav, her son, move out of the country and settle down in one of the quite suburbs of St.Louis,Missouri.Life drags on.But there are things happening that keeps her mind going back to Rohan.
She meets Steve first as a cop and then as a student at the University where she is pursuing her doctorate and things go smoothly between them.Steve learns about Rohan through Avantika and later several incidents lead them growing closer to each other.
And then there is this Little Rhea, her cousins adopted daughter with whom Aarav shares a special bond with as does Avantika.
On the other side, Rohan gets married to Shreya according to his parents wishes and soon they find out that there is no spark in their marriage especially after he sees Shreya with another man at the mall who is actually the guy Shreya wanted to get married in the first place.Divorce is filed and the two go their separate ways.
Right from the day he got married ,Rohan keeps comparing Shreya with Avantika and keeps thinking of her all the while and is wallowing in guilt.
Rohan shifts jobs and one fine day he lands in Simi Valley, California for a client meeting.He has already learnt through Wendy, Avantika's secretary, about her whereabouts and gets in touch with Avantika and insists that they meet up in California.
Does Avantika meet Rohan? What is the relationship between Steve and Avantika? What is the real identity of Rhea ? All this and more is for you to find out in the last few chapters of the book…
My views on the book…
The narration takes place through the voices of Avantika and Rohan .I find this style of writing a bit refreshing.
The personalities are portrayed strongly. Be it Avantika , Rohan,Steve or Shreya, the author has done a good job of carving out the nature / temperament of the characters.
The emotions of the man who has knowingly ditched the women he loved is depicted in a touching manner.
It is indeed a love story but it also hints at traditionalism.It shows how the previous generation still have expectations from the kids and how the children go beyond their means and emotions to live up to the expectations even though they have to sacrifice a lot on their part.
The ending was not something I expected. It has such a twist that will leave you with a surprised look on your face!!! It is not the stereo-type love story you read / hear everyday!
It shows a lot on what actually happens in the corporate world and their work ethic etc.
The only thing that I found on the downside was the pace of the story in the middle of the book. After Rohan breaks up with Avantika, the pace sort of drags .The narration of what happens in the 7 years that pass by is explained a little slowly and it could have set in a faster pace.
The title book of the surely conveys the story but with a huge twist.It was a nice read, I like it especially coz a woman is portrayed with a strong character background and takes a wise decision at the end.
This review is a part of the biggest Book Review Program for Indian Bloggers. Participate now to get free books!
Happy Browsing…