Once again I am happy to host Srivalli's Kids delight event in my blog. The theme I have chosen this time is 'Summer Coolers'.
Summer is at its peak here and and all of us are eager to chill out with juices/
shakes/ ice creams. Children too prefer something soothing for this
climate. Instead of giving them store brought colas / ice creams / shakes
, why not we prepare them at home and let the kids enjoy the yumminess of
home made coolers.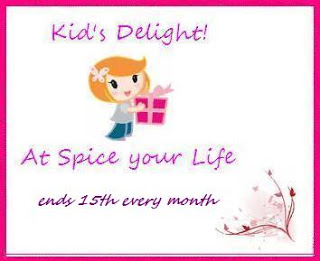 So for the next 30 days let us prepare dishes that are preferred for this climate. You can send in
• Juices
• Milkshakes
• Sorbets
• Granitas
• Ice creams
• Smoothies
• Chilled soups / salads,or anything that you feel is fit to beat the summer heat.
Please remember that we are preparing all this for the little ones at home. So make them healthy and tasty.
Here is what you need to do to participate….
1. Cook and blog about any Vegetarian / vegan food that fits the theme – Summer Coolers.
2.
Multiple entries are allowed.A small request though. Kindly send me all
your entries together so that it is easier when I am doing the running
roundup.
3. Since we are looking for new ideas, I am not accepting posts from archives.
4. Recipes sent to this event can be shared with other events as well.
5. Link to this post and to Srivalli's Kid's delight post (http://spicingyourlife.blogspot.com/2010/01/announcing-kids-delight-wholesome.html) is mandatory.
6. Non bloggers are also welcome to send in their entries.
7. The dead line is June 15th 2016.
Drop a mail to seduceurtastebuds@gmail.com with the following details
• Your name and the name of your blog
• Recipe name and URL of the post
• Picture of your delicious delight
Please leave a note in the comments section after you have mailed me your entry. Feel free to write to me for any queries.
I
will be doing a running roundup for this event so do come back often to
see what we have been chilling out with.
Looking forward to see all your delicious coolers…