Blogging Marathon – # 75
Day– 8
Name of the bake -Hang Geen Beng
Country – China
All my friends know about my affinity towards Chinese cuisine and I am sure that they would be looking forward to one dish for this marathon too! So while I was making a list of bakes for this edition , I wanted a cookie from the Chinese cuisine and the first one that popped up was these Almond cookies.
Since I already had the ANZAC biscuits for the letter A ,I went about looking for the Chinese names for the cookies. Hang Geen Beng was mentioned in one of the forums ,where one of the members had written that it was the Cantonese name for the Almond cookies!
I was doing a happy dance as I got what I wanted and then went on to bake these beauties!
Before going to the other details about the cookies, I want to share one other thing.
When we lived in China, I have never seen these cookies in the parts where I lived. There were bakeries and shops that sold cakes and cookies but I don't remember seeing these cookies there.
So maybe is is more like the Indo – Chinese cuisine where we have Gobi Manchurian but nothing like that actually exists in the typical Chinese cuisine!
History / Origin:
These cookies are also called Hang Yen Ban,almond crisp, almond cake etc. It is crisp and buttery with an almond in the center which is said to bring in good luck.
Almond cookies are said to have been adapted from the Chinese walnut cookies which were popular in the 16th century during the rule of the Ming Dynasty. It was a palace delicacy and considered to be a royal dish.
Later on, it was available to the common man and became a regular cookie like rest of the bakes.
This cookie was introduced in the U.S. by the Chinese immigrants who used almonds instead of the traditional walnuts.
Did you know that the National Almond cookie day is celebrated on the 9th of April each year!?
Ok, now that we talked about these almond cookies, there is a small confusion about another bake also called the almond biscuit / almond cookies
In Macau, there is another pastry that is made of Almonds and green bean[whole moong] paste which is also referred to by the same name.These are also sometimes referred to as Xing ren bing.
I have tasted this version of almond cookies, several times and loved eating it too.
Today's post is about the crispy, crumbly almond cookie which is originally made with lard.
In those days, lard was the main source of fat and also easily available. So there were extensively used in cooking. Now a days, butter, shortening, oil have replaced lard.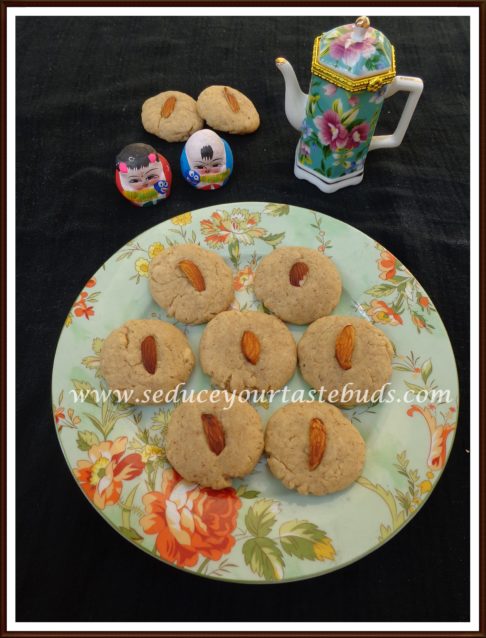 How to make Hang Geen Beng | Chinese Almond Cookies
I used:
Whole wheat flour – 1 cup
Powdered Sugar- 1/3 cup
Almond meal- 1/4 cup
Baking Soda- 1/4 teaspoon
Salt- 1/4 teaspoon
Milk- as needed
Vanilla essence- 1/2 teaspoon
Whole / sliced almonds to decorate
In a bowl whisk together, flour and salt.
In another bowl, whisk butter and sugar till fluffy. Add vanilla essence, flour mixture and bring the dough together.
Add milk little by little and make a soft ,non sticky dough.Do not add too much milk.
Cover the dough and chill for 15 minutes.
Take it out and roll into small balls.
Flatten each ball and brush with a little milk and place an almond in the center. Repeat until the dough is all used up.
Place on a baking sheet and bake in a pre heated oven @ 180 degrees for 12-15 minutes. Baking time will vary on the size and thickness of the cookies. Once done the bottom of the cookie should be golden brown.
Remove onto a cooling rack .
Serve / store in an airtight container.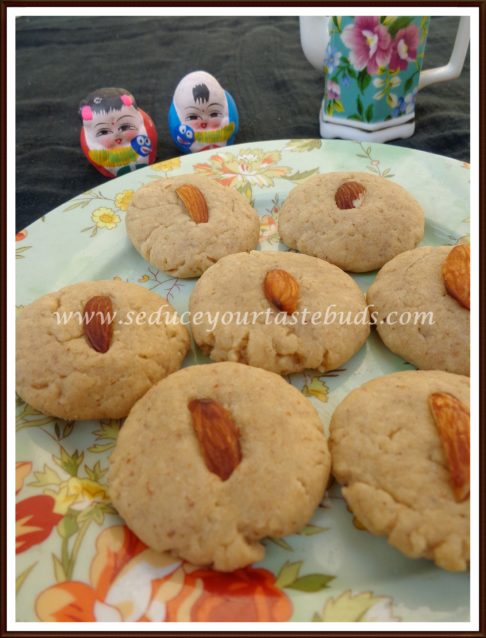 Note:
I used whole wheat flour. You can use All purpose flour too.
The cookie will be soft as soon as they are out of the oven. It will turn crisp after cooking.
Check out the Blogging Marathon page for the other Blogging Marathoners doing BM# 75
Loading InLinkz ...