Spiced Moroccan Coffee Recipe
December is going to be a very busy month. I have signed up for 4 weeks of blogging marathon and over zealously signed up for bakeathon as well!
I have to cook and bake like crazy to get the posts up on time. Its going to be hectic for sure but my kiddos are looking forward to some delicious bakes and other dishes that I planned out for both these events.
Cooking and posting the same day looks nerve wracking but I can never stay away from these events!
So here I am with a Spiced Moroccan Coffee Recipe . The theme for this week  is Moroccan dishes and since I have a time constraint on cooking, clicking and posting, I chose this simple beverage for the day.
I have also posted a few other  recipes from Morocco . Do check them out.
There is also another another version of Moroccan coffee posted here where instant coffee powder and spice powders are used. Click on the link to know the method..
But this version makes a nice pot of brewed spiced black coffee. I have used my small percolator. You can also brew the same in the regular filter / french press.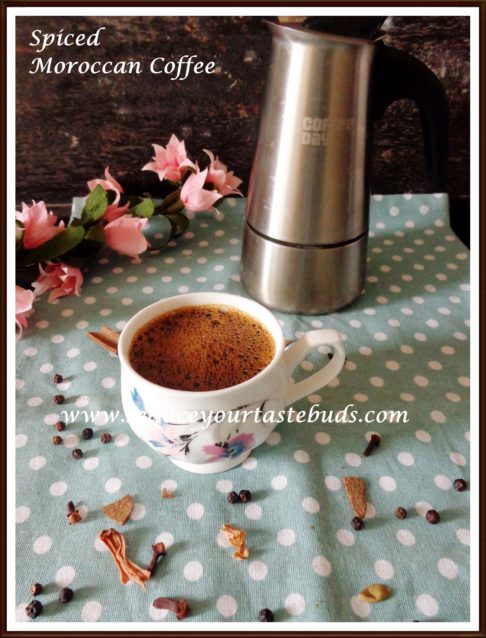 The whole spices are ground and added to coffee powder / coffee grounds and then brewed. The spices can be adjusted to suit ones taste.
I have used minimal amount of the spices as I did not want to overpower the flavor. Also I am not a huge fan of cinnamon so added just a small piece.
Use a sweetener of your choice. I have added sugar. Also creamer  / milk can be added. I had it as such without adding either of these.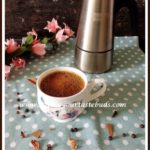 Spiced Moroccan Coffee
A coffee with warm spices from Morocco!
Ingredients
2

Tablespoons

Coffee Grounds

1

piece

Clove

1/2

inch piece

Cinnamon

A

Small piece

Mace

4

numbers

Peppercorns

1

number

Cardamom, pods removed

1/4

teaspoon

Ginger powder

150

ml

Water

Sugar to taste
Instructions
Using a spice mill / motor and pestle grind the spices.

Add this to the coffee grounds and mix well.

Fill it up in the percolator filer and brew the coffee. Or use this spiced coffee ground and brew the coffee as you normally do.

Milk / creamer can be added.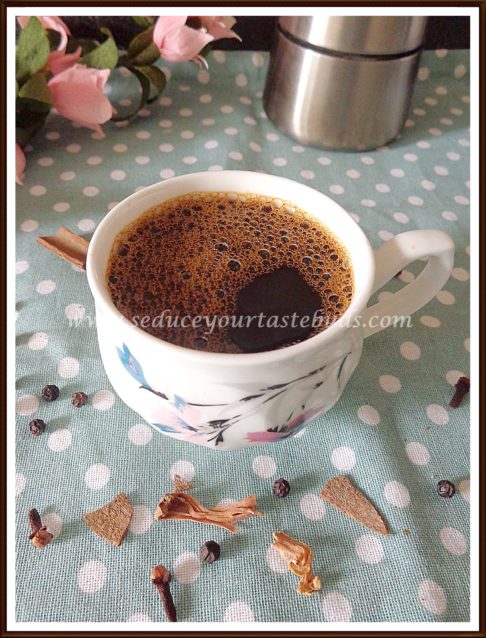 Check out the Blogging Marathon page for the other Blogging Marathoners doing this BM#83