Banarasi Matar Poha | Chura Matar Recipe with step by step instructions
I really wish I could write a post everyday! There was a time when I used to post 2-3 recipes a day! The kiddo was barely a year old and then even after she grew up a bit, the posting continued.
After the second one arrived, I did manage to do at least 20 posts a month. And then I had this dream to start posting everyday after the kids started school.
Now though, I find it even harder to manage the blog!! My schedule, the kids school work and house hold stuffs take priority.
I do get the clicks ready but writing the post is what I find hard. Hard in the sense, not enough time to pen a decent post. So the pictures grow in the drafts and that's how my 'magic folder' came into being.
Most of the stuffs that are cooked are clicked and those for events are also duly clicked. They are even edited but when it is time to post, I have to skip it somehow.
So , as my friends joking / seriously call it the magic folder, the one that has recipes to suit most of the Blogging marathon theme always has stuffs when I need it something urgently.
But this week's theme – Famous Breakfast dishes from different places was an exception. I did not have even a single authentic breakfast dish in the magic folder!
I thought I could do the cooking part earlier on so that I can post it on time, but man, was I wrong!
So when the date came around, I was busy cooking and clicking for this theme.
The first one in this series is the Banarasi Matar Poha | Chura Matar Recipe.
Banaras or Varanasi is one of the most sacred places for the Hindus and I visited it almost 2 decades back.
I remember eating hot jalebis and the kullad chai. Of course  the temples have their own place in my heart, as does the boat ride across the Ganges. The crowd that thronged the Shiv Rathri evening and night is unforgettable yet such a divine experience!
Now back to the recipe…
This Banarasi Matar Poha | Chura Matar Recipe is famous in Varanasi but I don;t remember eating it there. I was probably more interested in the temples and the shopping that I did not look out for this specialty!
This dish is made with Poha / Aval / Avalakki / pressed rice and green peas. It tastes very different from the regular poha upma that we make in the South.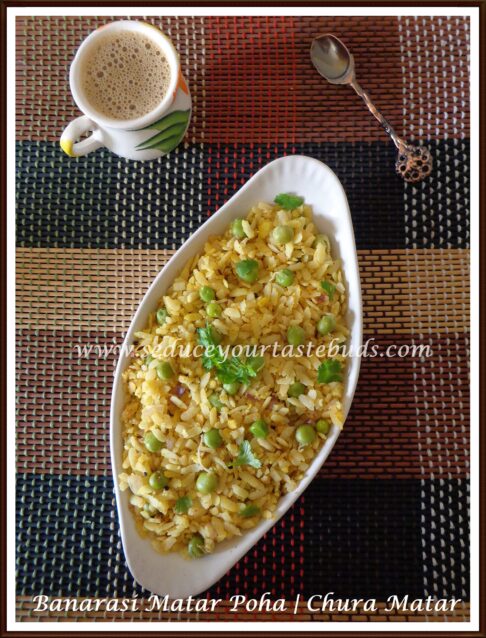 Related recipes
Step by step method to prepare Banarasi Matar Poha | Chura Matar Recipe
I used:
Poha – 1 cup
Fresh Green peas – 1 cup
Milk-1/2 cup
Coriander leaves- a fistful
Green chilies- 2, slit
Grated ginger-1/2 teaspoon
Turmeric powder- a large pinch
Garam masala – 1 teaspoon
Sugar-1/2 teaspoon
Lemon juice- 1 teaspoon
Oil- 1 teaspoon
Cumin seeds- 1 teaspoon
Mustard- 1/2 teaspoon
Salt to taste
Wash the poha and drain well.
Soak the poha in milk and let it sit for 10-15 minutes / till soft.
Heat oil in a pan and add the mustard and cumin seeds.
Once the mustard pops, add the green chilies, ginger
Add fresh peas and 1/4 cup of water and bring to a boil
Once the peas are soft, add turmeric powder, garam masala,sugar, salt and mix well.
Put in the poha, coriander leaves and give it a mix.
Cover and cook for 2-3 minutes.
Remove from heat and add lemon juice and mix.
Serve hot.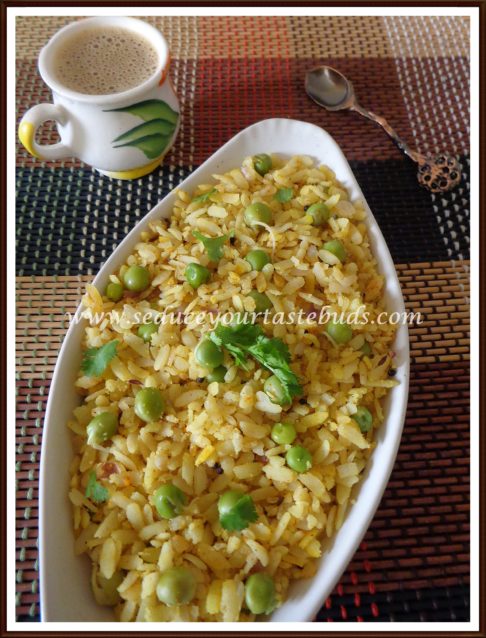 Check out the Blogging Marathon page for the other Blogging Marathoners doing this BM#85