Oats Dhokla Recipe with step by step instructions
If there is anything called the previous birth, then I must have been born a North Indian!I am in love with all its dishes and  make them quite often at home . I do like South Indian dishes too. So the conclusion is I must have been a North Indian who married a South Indian!
Well, jokes apart, I do love North Indian food as much as I am in love with its South Indian counterpart.
A couple of days back, I was browsing through the pictures on the mobile and came across a pic that made me want to dance!
It was the recipe that I had clicked  from the back of a packet of Oats! And the recipe was ,you guessed it right, Oats Dhokla!
But I was not sure if Dhokla was a breakfast or a snack and I always make it for teatime.
I pinged Vaishali in the middle of the night and waited for her reply. Much to my delight she answered that it can be a snack and a breakfast dish.
So I made it the next day ,even if it was to have with coffee, and I was pretty pleased with myself for remembering to click a recipe from the pack.
This dish is for Blogging Marathon #85, Week 3, Day 2 with the theme Breakfast dishes from different places.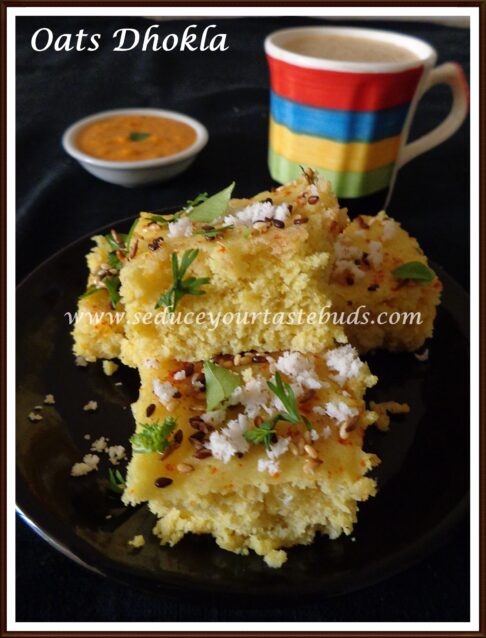 Other Dhokla recipes
Here is how to make the Oats Dhokla Recipe
I used:
Lightly roasted and powdered oats- 1 cup
Besan- 1 cup
Green chili paste- 1/2 teaspoon
Ginger paste-1/2 teaspoon
Oil- 1 teaspoon
Curd / Yogurt- 1 cup
Turmeric powder – a large pinch
Salt to taste
Eno – lemon flavor- 1 sachet / 5 grams / 1 teaspoon
For tadka / seasoning
Sesame seeds- 1 teaspoon
Cumin seeds-1/2 teaspoon
Curry leaves- a few
Oil- 1teaspoon
For garnishing
Coriander leaves
Grated coconut
In a bowl, take the powdered oats, besan, turmeric powder, salt, green chili paste,ginger paste,oil and mix well
Add curd and whisk well so that there are no lumps.
If the mixture is too thick, add a little water but the batter must not be watery.
Now add eno and a teaspoon of water over it. It will froth up.Mix gently .
Pour into a greased plate / tin and gently tap it.
Place in a steamer and cook for 10 minutes / till the tester inserted into the center comes out clean.
Remove from steamer and let it cool
Now heat oil for the tadka and add the cumin seeds.
Once it crackles, add sesame seeds and curry leaves.
After a second, pour it over the dhokla plate and spread gently.
When the dhokla has cooled down, cut into squares and serve.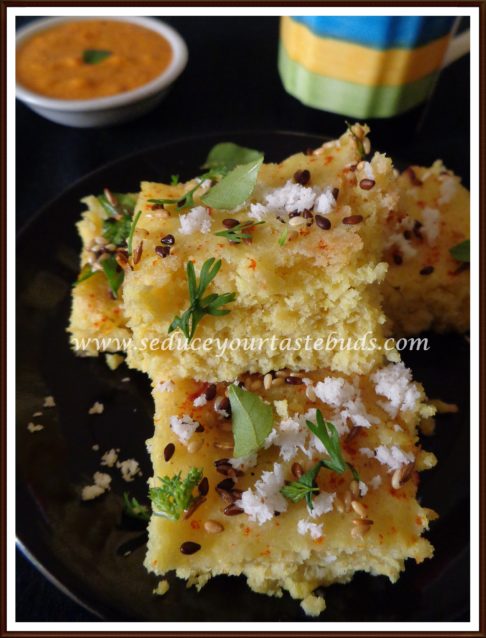 Note:
The original recipe does not have green chili and ginger paste. I added it to boost the taste
Also I replaced baking powder with Eno.
Check out the Blogging Marathon page for the other Blogging Marathoners doing this BM#85