Our Blogging Marathon members take up themes each week and each of us do a roundup of one of the themes. This month, I chose to do the roundup of the theme – Millet Recipes.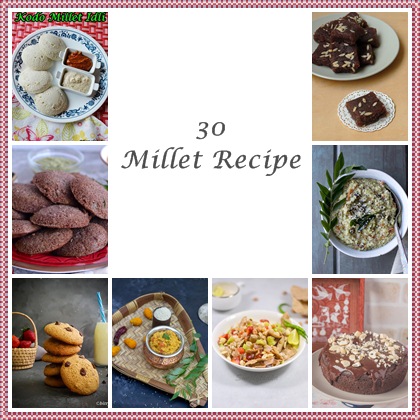 With millets gaining popularity, our members have come up with both traditional and innovative methods to use up this nutritious ingredient.
Let's have a look….
Harini has prepared this  Sanna Polo – A Millet Based Dosa  – A millet dosa from the Konkan region,Kodo Millet Idli ~ Arikela Idliv- Soft and fluffy idlis that she prepared from the handout by AP Government! And Foxtail Millet Paniyaram– The bite sized and perfect way to sneak in the millets!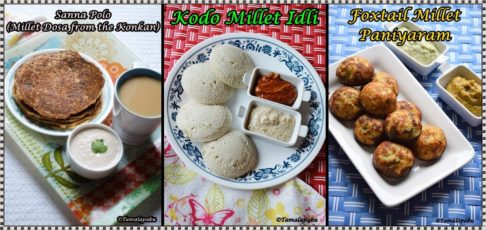 Srividhya has preapred this Tirunelveli special One pot meal – Kootanchoru , Soft and spongy, Karnataka special – Neer Dosa with Barnyard millet , No cook,no bake energy balls / Ladoo using Pearl millet – Kambu Ladoo.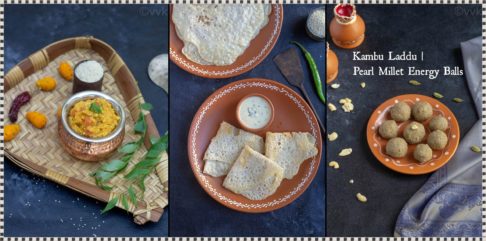 Pavani has prepared this delicious bowl of Mixed millet grains upma that can be had as a breakfast dish or a light lunch , Kodo Millet Pilaf– a nutritious one pot dish and Sanna Polo – the lacy Konkani style Rice Dosa using Millets along with rice.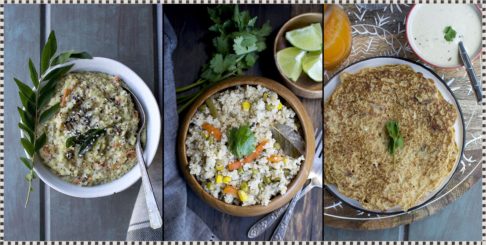 Bhawna has prepared these South Indian Favorites with millets – Instant Ragi Idli and Ragi Dosa , Bajra Muthia– the famous steamed snack from Gujarat.

Healthy Ragi Roti , Delicious Methi Bajra  Poori and a crispy Foxtail millet Dosa from Sushma.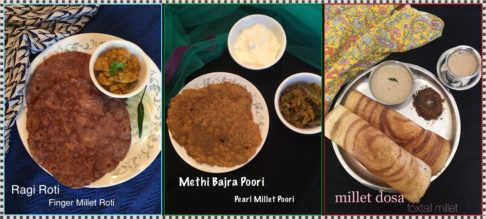 Priya has taken the millets to a whole new level with her Eggless wholewheat Ragi double chocolate cake! Beets and little millet Croquettes that would probably disappear straight from the griddle and crispy Ragi Ribbon Murukku.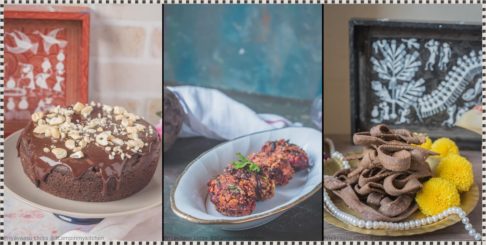 Preeti has made this Papdi chaat with a twist , Samak Jeera Rice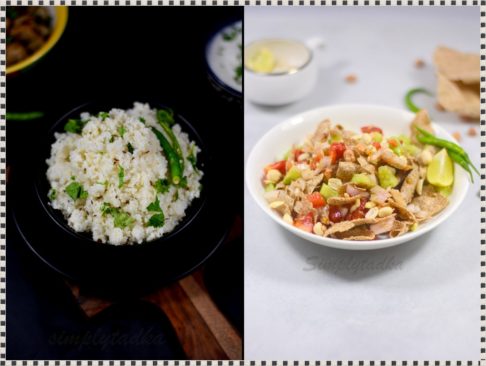 Priya Suresh has prepared some desserts like this yummy Ragi Halbai , Thinai  Rava Ladoo and a delicious snack – Vegan sun dried Tomatoes herbed finger rolls.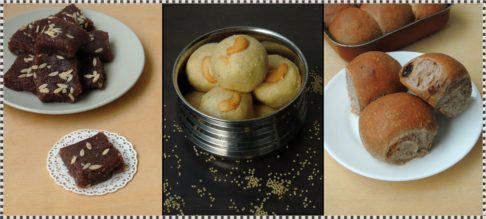 Sharmila has prepared such wonderful bakes with millets!! Millet Chocolate chip cookies, Healthy double chocolate millet brownies , Healthy millet seed cookies.

And , Multi millet savory porridge, Ragi Adai and Ragi peanut ladoo from my kitchen.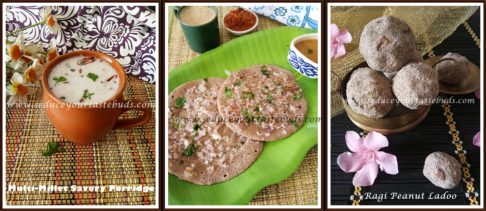 Hope you enjoyed going through all these delicious dishes. If you are looking for more inspiration, check out the other Millet based recipes on the blog.