This one is easy as ever!!
Take 1/2 cup pre-roasted vermicelli[Semiya].
If you don't get the pre-roasted variety,heat 1 teaspoon ghee in a pan and roast the vermicelli till brown on slow flame.
Now coming back to our pre-roasted variety,put it in a pan and pour water[approx.1 cup] into in and stir lightly so that the vermicelli does not get broken/mushy.
When half done,add 1/4th cup sugar into it and mix gently.Stir occasionally.
When fully cooked[the vermicelli should be soft but not mushy,so adjust the water accordingly] remove from fire and let it cool.
Before serving,add the required quantity of milk and serve garnished with roasted cashew and raisins.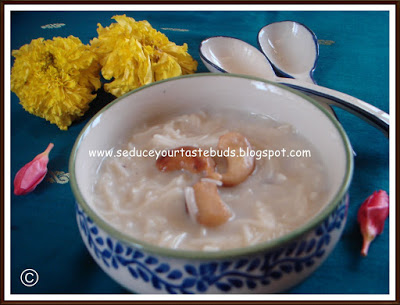 Bon Appetit…