Would you believe me if I told you that I had been eating this humble curd rice for breakfast for the more than 10 years!! Wonders-When I come to think of it I am amazed myself.When mom used to turn out yumm breakfasts, I still would adamantly stick on to my favorite curd rice.Yes, for many years during my school and college times this was my breakfast staple. I still remember my school bully who heard me discussing my breakfast menu with one of my friends and went around spreading this wonderful news and telling everyone that those who ate curd rice in the morning were bound to be dull-headed as it would make them sleepy and even more important would do badly in their studies.But that clearly didn't deter me from changing my breakfast menu.Not only did I do well in school,I was a medallist in college as well[Not bragging girls,but just telling everyone not to believe in such rumors 😉 ]!!
Curd rice is a breeze to prepare and you can add or omit the garnishing to your taste.Add in Raisins/roasted cashews/finely chopped apples/green grapes/raw mango/cucumber-anything to suit your palate.If you are in no mood to garnish,just plain curd and rice with pickle is a meal to die for 🙂 ….
You need:
Cooked rice -1 cup [Cook with a little extra water]
Thick curd- 2 cups
Salt to taste
Seasoning:
Oil- 1 tablespoon
Mustard- 1 teaspoon
Urad dhal[white,split]-1 teaspoon
Green chillies -2 slit or Sundried chillies-2
Curry leaves- a few
Garnish:
Raw mango 1″ Pieces – 5 teaspoon
Cucumber peeled and diced – 5 teaspoons
Pomegranate seeds – 5 teaspoons
Carrot,grated – 5 teaspoons
Coriander leaves,finely chopped – 5 teaspoons
Spread the cooked rice on a plate and let it cool.
Transfer it to a bowl and mix in 1 1/2 cups curd + salt.
If using sun dried chilles do not add with the seasonings.Deep fry in oil ,crush it and add to rice mixture.
Heat oil and add the seasonings.When they splutter and dhal turns brown add to rice.Mix well.
Garnish and serve as such or with any pickle.
In case you prepare this ahead of time,mix in the remaining curd [if necessary] before serving.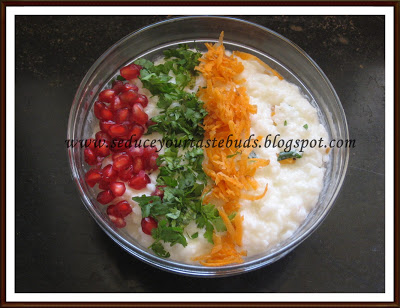 Sending it over to Srivalli's Rice mela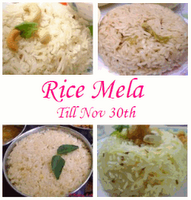 Also in the rice mela…
Rice Sevai
Lemon sevai
Aval Upma
Check out my team mates on RM # 2 day 16
1) DK 2) Siri 3) Srivalli 4) Ranji 5)PJ [That's me]6)Curry Leaf 7)Medha 8)Priya 9)Bhawna 10)Raaji 11)Ruchii
12)Anu 13)Kamala 14)Roopa 15)Divya Kudua 16)Rekha 17)Divya M 18)Lakshmi 19)Raaga 20)Lakshmi Venkatesh 21)Sripriya22)Viji 23)Kamalika24)Pavani25)Karuna26)Roochi