This is a slightly tangy, slightly sweet raita that can be had as a snack on hot summer days or served as a side dish for a rice dish
You need :
Fresh yogurt – 1 cup, thick
Kiwi fruit – 2 ,small, chopped
Red chilli powder/pepper powder- to taste[I used a little of both]
Salt to taste
Coriander leaves, finely chopped , to garnish
1. Beat the curd well with salt and chilli powder and chill.
2. Peel and chop the kiwi fruit.
3. Just before serving, fold in the kiwi pieces into the curd.
4. Serve immediately, garnished with coriander leaves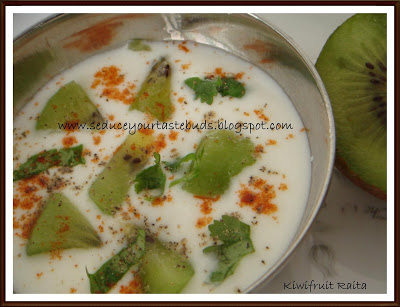 This is off to – AFAM-Kiwi fruit hosted here.