This morning I decided to spend a few days at mom's place.Armed with a couple of bags and 2 litres of milk[!!!!] I landed at her door steps.I was excited.This excitement has been surging within me for a couple of days and was about to be unleashed.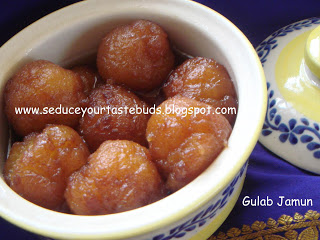 When Lil angel was asleep this afternoon I sped into the kitchen to explore the unknown waters,errr,i mean to prepare Gulab jamuns .If you are thinking I am talking about cricket,you are mistaken!Srivalli started the Indian cooking challenge fondly called ICC.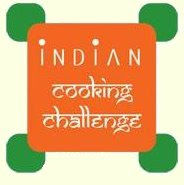 It is a cooking challenge where members try out different Indian dishes each month and this month the chosen recipe is Gulab jamun.So by now you would have guessed why I came home with so much of milk.Yes,we have to make this recipe from the scratch.
When I was a kid,I have seen mom preparing Khova for different sweets and I would stand next to her taking in the yummy fragrance and looking forward to the final dish!She would heat milk in a large vessel and put in a small stainless steel cup[to prevent the milk from sticking to the bottom/getting burnt] and let the milk boil and stir once in a while till the milk thickened to the khova consistency.
Then she would prepare different sweets with it and the one that she made most often was Gulab jamun.I love these sweet wonders and nowadays I prepare this with ready mix.But Srivalli's challenge was really challenging as I just enrolled myself this month and I am ready to go on a vacation and have just a few days to prepare this dish and that too with a sick lil angel at home.
Fortunately lil angel is getting better and I thought today is my chance to prepare this dish.Mom helped me with making the sugar syrup while I made the khova and the jamuns.
I followed the procedure form the YUM blog.I got 24 jamuns from this recipe.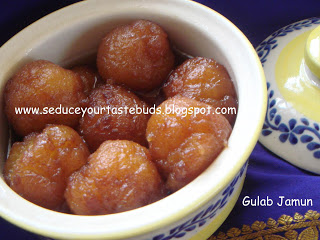 Ingredients:

Khova – 11/2 cups/ 1 recipe
Maida – 1 cup
Sugar – 3 cups (if you want excess syrup i.e floating jamuns increase by a cup)
Water – 1 cup (increase if you're increasing sugar)
Cooking Soda – 3 pinches
Cardamom – 4 pods
Saffron leaves – a few
Oil – 1 cup (for deep frying)
Method:

1. Combine sugar and water in a flat bottomed broad pan and simmer on a low heat until sugar dissolves. Add cardamom powder and saffron leaves and remove from fire.
2. Knead khova, maida and soda and quickly shape into balls.
3. Heat oil on a medium flame. Fry the jamuns till golden brown over a low to medium flame, keeping oil temperature uniform. Oil should not smoke.
4. Drain the jamuns and soak in the warm sugar syrup.Serve the jamuns after half an hour.

Tips:

You will achieve correct consistency for jamun syrup when 3 cups of sugar dissolves 1 cup water over low heat.
Only when the syrup is ready, mix the jamun dough.
Since the dough has soda, if its kept aside the jamuns will disperse while frying and will not hold well.
Right temperature of oil of utmost importance to get soft jamuns.
Never refrigerate jamuns. Jamuns when refrigerated will shrink and become hard.
Jamuns will stay fresh for 4 days when stored in air tight containers.
If you like you can add two drops of rose essence to the syrup to make it Gulab jamun
This is the procedure and the tips as given to us and I have not changed it one bit!I just made one small addition though.
I added 2 teaspoons of milk[to remove impurities] to the sugar syrup as it started boiling, strained it and then added cardamom and saffron strands.
When I made the first batch,the jamuns started to crack when I was frying them and only then did I realize that I had not rolled the balls well.I rectified this in the next batch and got wonderfully shaped jamuns.Since it took a long time to prepare this and the want of enough sunlight to click a pic[ and I had to do it all before lil angel woke up from her beauty sleep],I am posting the pic of the first batch which looks a little 'out of shape' but tasted divine.
As I am writing this post,I am savoring these sweet little delights.Each bite is sinfully delicious and I am not a bit worried about those extra calories,fat and whatever….[All that is for later though :)].Right now its pure pleasure…..