Avial is typically a dish from Kerala though it is also prepared in Tamilnadu.It is nothing but a colorful and tasteful mixture of vegetables in a spicy coconut gravy.
For reason unknown[even to me!!],I don't like Avial!Surprised?You ought to be…I don't know when and why I stopped eating this dish.When it used to be served at weddings,functions or at home ,I avoided it.
I went home to India a couple of months bac and ,mom prepared it.She asked me to try but I was a bit hesitant.Yet I did try and I was so guilty that I had ignored dish earlier.
I loved it so much that I had it like a snack in the evening!!Well,what can I say,preferences for certain things do change over time!!!
Here is mom's method for preparing this dish.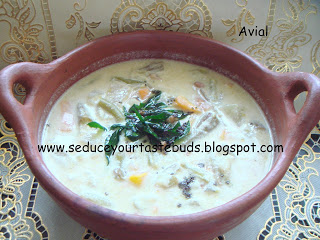 You need:
Mixed Vegetables[See note below]-3 cups
Curd/Yogurt-1 cup
Coconut oil-2 teaspoons
Mustard-1 teaspoon
Curry leaves-a few
Groundnuts-a handful
Salt to taste
Grind to a fine paste
Coconut 1/2 a cup
Green chillies-3[Adjust to taste]
Jeera/cumin seeds-1 teaspoon
Pepper-1 teaspoon
Ginger-1″ piece
Pressure cook vegetables,groundnuts and transfer them to a vessel along with the water used to cook it. .Be careful not to over cook the vegetables.
In a heavy bottom pan put in the vegetables ,ground paste and salt. Mix well.
Add a little water if the mixture is too dry.Simmer and let it cook for 5 minutes.
Remove from heat.
Mix in beaten curd.
Transfer to serving bowl.
Heat coconut oil and put in mustard and curry leaves.
When the mustard splutters and curry leaves crisp,pour over avial and mix.
Serve with steamed rice/adai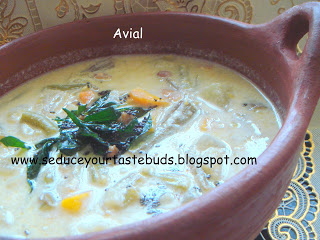 Note:
The vegetables best suited are drumstick,raw plantain,chow chow, beans, carrot peas,potato,pumpkin-white and yellow.
Ladies finger and brinjal are usually not used in this dish.
Coconut oil give this dish the authentic flavor but in case it is not available any other cooking oil can be used.
Happy cooking…