Here is a something that is sure to make you healthy.It gives you so many health benefits that you are sure to reach out for more.I hope you are not thinking that I am talking of wine,are you?Nope,I here today with a simple and healthy recipe for the wonder lemon tea!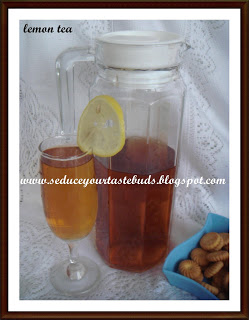 Lemon tea has both the benefits of lemon and tea.Lemon is a natural refresher and antiseptic and tea is full of anti oxidants and therefore lemon tea is sure to refresh your mind and cleanse your body.
Now the exact benefits of lemon tea goes like this…
Studies have found that it prevents/reduces the chances for cancers.
It cleanses the body of toxins.
It aids in digestion.
It is a soothing drink if you are suffering from those horrible cold and cough spells.
It is also said to prevent infection when taken on a regular basis.
It will not cause any abdominal discomfort/irritation that you may experience from taking tea/coffee with milk
It is definitely refreshing and boosts your mood!It surely does relieve stress.
Here comes the recipe for which I used:
Water-3 cups
Tea leaves- 3 teaspoons
Lemon juice to taste
Cinnamon -a small piece
Honey to sweeten
Boil water in a pot and put in the tea leaves,cinnamon stick.
Simmer for 5 minutes
Strain into a pitcher and add lemon juice and honey to taste.[While adding the lemon juice to the tea you would surely fall in love with that tempting orangey yellow liquid!]
Pour into cups and serve.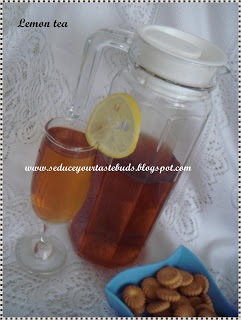 Note:
If you want to add to the beauty of the lemon tea,you can serve with a piece of lemon in each cup.
For a vegan version,use sugar to sweeten
On a cold winter evening curl up with your favorite book by the window and sip up a cup of warm lemon tea.Summer time?Make a pitcher of iced lemon tea and cool down your body and feel refreshed.Sip your way to a healthy life!