A couple of days ago I went to visit the clinic where I had worked and started a casual chat with the physician.There is a treasure trove of books in her room and my eyes kept looking out for any new books that I might have found its way into the cupboard during my absence.
When I was working there, I used to borrow books regularly and read them with great interest.She has a wide selection of books ranging from medicine related to Ayurvedic texts,herbal medicine,patient care to hospital administration.So I never get bored with the topics.
This time I saw a book named – The Herb Bible and it caught my attention immediately.After our chat I asked her if I could borrow it for a few days and she readily agreed.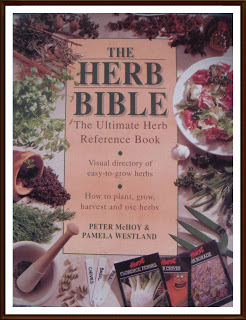 This book is authored by Peter McHoy and Pamela Westland.
Peter McHoy is said to have been writing about gardening for many decades and the joint editor and publisher of a number periodicals like Gardening Now and Flower-craft.
Pamela Westland is a freelance author who has written many books on cookery and flower arrangement and the book says she lives in a 14th century farm house with a large herb garden and this was the inspiration for this book!!
This is a 'All what u need to know to grow and use herb' guide.
The instant I opened the book,I was hooked.It starts with an introduction, speaks of Herb heritage and the use of herbs as early as 2000 B.C!!!Then comes the part talking about how the new world looks at the herbs.
A directory of herbs follow which explain how to interpret the keys in that are seen on each page of the book.
Each page has a color photograph of the herb along with a color sketch .It gives us details about
Nativity
Type of plant
Best position for it to grow
Suitable soil it needs
Method of propagation
Life span,
Parts of the plant that can be used
Uses-like if is a cosmetic / for crafts / medicinal plant
After around 100 pages of all these information on A-Z herbs,the authors go on to tell us about 'Growing herbs'.Right from making a layout,preparing the soil,designing the herb garden,selecting the right herbs to grow,propagation,caring for the herb this section is so interesting.It even tells us how to test the soil!It also gives wonderful insight to growing herbs right from a large garden to a balcony/shoebox/containers!
The next section is really the most interesting part!Yes,its the 'Herbs In Action' and you guessed it right-Herbs in our cooking.
It has notes on preserving the herbs we have grown.
A table for the combination of herbs that go well with certain types of foods.
27 recipes categorized under
Soup and starters -4
Herb sauces,oils and vinegars -4
Meat and fish dishes- 3
Vegetarian dishes – 3
Vegetables and salads-4
Desserts and sweet treats-3
Baked goodies-3
Aromatic preserves- 3
That's not all,it even tells us herbal use in cosmetics!Right from using the herbs in baths,as cleansers,hair conditioners, there is a table for all the cosmetic needs.
There are a few pages each dedicated to bath preparations ,cosmetic treatment,floral water and colognes and hair care.
A column for herbal remedies is worth mentioning and so is the chapter on decoctions,compress and tinctures.
Then comes the herbal remedies for ailments like respiratory disorder,digestive problem, nervous disorders,skin problems etc.
In the crafts section of this book you can find a guide to using fresh and dried flowers in floral arrangements.
The household preparation chapter is sure to catch our attention with its table of using herbs in making candles,fabric rinses,household cleansers,insect repellent,mice repellent,pillow stuffing etc.
The last section of this book gives us a quick reference guide in the form of a table that has all that's in the book as pointers.
Going through this book is an absolute pleasure. Each and every page is filled with color photographs and sketches of herbs.It is detailed in every aspect and even an amateur like me will readily get involved in growing herbs.
With the coriander and fenugreek leaves hitting rocket high prices,I have tested my soil as given in the book and sowed the seeds as well.The plants are coming up now and in a few days I will be harvesting!!!See,this book is totally motivating!A peek into my garden makes me smile with pride as the see the tiny little plants !!
This book covers around 80 herbs and is definitely worth possessing .Each and every page has color photographs or illustrations.I am soon going to buy a copy of this book.
At a glance:
Title – The Herb Bible – The ultimate herb reference book
Authors – Peter McHoy & Pamela Westland
Pages- 225
Topics covered
Herb directory
Herb care – choosing and buying healthy herbs, propagation, harvesting, storing them.
Preparing a herb garden ,growing them in a large garden / pots / containers etc.
Creative use of herbs in cookery, cosmetics, home remedies , crafts.
Charts for easy cross reference on the different uses of herbs.
I have not been paid by anybody to write this review.The details of the book are too good to keep it to myself and hence sharing it in my space.
Happy browsing…