The clouds are threatening to pour and its so breezy and chill.I am hungry.I want a hot cup of coffee and some munchies.Munchies-not the oil laden ones but something crisp,not deep fried or baked.I can hear you girls!!Where can I get something like this!!!I did , actually in Sana's blog.As you are aware I am paired with Sana who writes at Every Bunny Loves Food.This is my second dish for Taste and Create from Sana's blog.As you are aware Taste and Create is a food community where blogger's are paired to try and taste each others recipe.If you are interested check out the Sign up page.
Sana's version of Homemade Poha Chivda is actually not deep fried but roasted in a pan.Perfect for today's climate….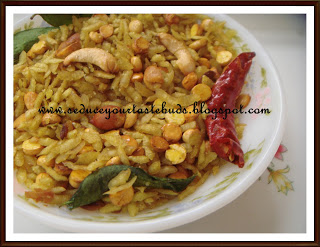 I made just one change.She used green chillies.Unfortunately I did not have it so used red chilli .
I used:
Poha/Pressed rice/Aval – 1 cup
Peanuts- a handful
Cashew-a few
Roasted channa dhal[Dalia]-a handful
Curry leaves -a few
Red chillies-2
Mustard seeds-1 teaspoon
Turmeric powder-a pinch
Sugar-1/2 a teaspoon
Salt to taste
Oil-1 teaspoon
Heat a heavy bottom pan and put in poha.Stir it on medium heat till it curls up[thin variety] or turns crisp[thick variety].It will a few minutes.Remove onto a plate.
In the same pan heat oil and put in all the other ingredients except sugar and salt.Fry till the nuts are brown.
Put in the roasted poha and mix well.
Remove from heat and let it cool on a plate.
Add salt and sugar and toss well.
Serve immediately or store in an airtight container.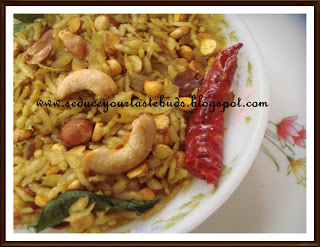 A perfect snack on a chilly evening with a cup of piping hot coffee!!
I also made Mera Lazywala Maggi from Sana's blog..Check it out too..
Bon Appetit…